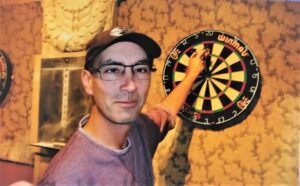 This gathering is for Shawn, a player who thoroughly enjoyed the game of darts. Shawn was known for his ability to provide guidance to newcomers while also challenging experienced players in their pursuits. Let's gather to savor a pint of beer or a glass of scotch, enjoy music he loved and laugh over our fond memories of him like his love for the Steelers and Senators. There will be enjoyable games of darts, yummy food, and lots of laughs. Let us embrace his spirit of lightheartedness, leaving seriousness aside, as we raise our glasses in a toast to Shawn's memory.
The event is Hosted at the V-Lounge on Sunday May 28 at 11:00AM.
If you can't make the event, you can support our fundraising goal by donating to Victoria Hospice.