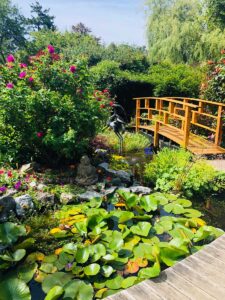 Plot your map, grab your hat, and prepare to be inspired. The 17th annual Teeny Tiny Garden Tour returns in-person Sunday, June 12.
You'll find elegant formal gardens and country-in-the-city spaces maximized for food production. Tender herbs, veteran trees, chickens and bees, and mesmerizing blossoms of all kinds are guaranteed to capture the interest of green-thumbed and armchair gardeners.
Bonus: a virtual tour showcasing water vistas and whimsical surprises is included. You'll also have chances to win door prizes or to pick up a few keepsakes along the way.
Tickets are $25 and go on sale May 5 at Capital Iron (Downtown and Westshore), GardenWorks (Blenkinsop, Oak Bay and Colwood), and Heirloom Linens in Broadmead Village.
Big thanks to Teeny Tiny Garden Tour sponsors Digital Direct Printing, First Memorial Funeral Services, Glass Smith & Co, Joyce Butler, National Bank Financial Wealth Management, The Avenue Gallery, Thrifty Foods, and VandeRuyt Wealth Management Group and supporters Capital Iron, GardenWorks, Heirloom Linens and Indigo Sky Graphic Design.