Each month, Heirloom Linens supports a local charity with their "12 Months of Giving." Every month, 50% of the net proceeds from one featured item supports a local charity in Greater Victoria.
Victoria Hospice is the charity for the month of September!
Visit Heirloom Linens this September and pick up their Alexandria Towels, and 50% of net proceeds from all sales of that item will go to support end-of-life care in our community. Thank you to Heirloom Linens for being a continual supporter of Victoria Hospice and end-of-care.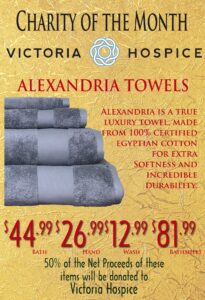 Location: #380-777 Royal Oak Drive
Click Here for more details.