Welcome to the Virtual Teeny Tiny Garden Tour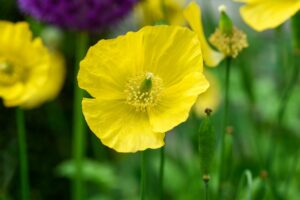 Here you can catch a glimpse into some of Victoria's best backyard gems as local garden owners generously open their gates in support of Victoria Hospice.
While we will miss seeing you out on the tour this year, our virtual tour is designed to bring the same beauty, inspiration and delight right to you!
Admission to this year's virtual tour is free! In lieu of purchasing a ticket, we invite you to purchase a 2022 garden calendar or make a donation to Victoria Hospice. Thanks to our sponsors, 100% of the proceeds will go to support end-of-life care in our community.
Your Garden Tour Guide
---
Tour the Gardens
Calvor's Garden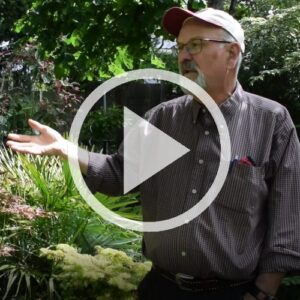 More on Calvor's Garden

Calvor is no stranger to touring folks through his amazing space. A biologist and avid member of Victoria's horticulture community, he breeds irises, trilliums and other specialty plants, often not seen outside Central and South America, and grown from seed right here in Victoria. His extensive knowledge and passion for his plantings provide the ultimate visual buffet for anyone lucky enough to visit. We were fortunate to be given a glimpse into this bounty for this year's tour. Some of the highlights include his incredible collection of irises, podophyllums, and hardy orchids, just to name a few.
Shirley & Bruce's Garden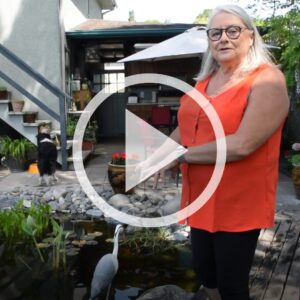 More on Shirley and Bruce's Garden

This park-like setting offers the best of all gardening worlds; several garden 'rooms' surround a palatial green space for Ben, the 4-legged member of the family. A greenhouse and mini nursery are artfully tucked to the side, and as you meander, you are drawn to each colourful space for its own uniqueness and texture effect – the hosta garden, the incredible heuchera collection, Bruce's kitchen garden in an upcycled claw foot tub, and lots of whimsy throughout the entire space. The showstopper is the gorgeous water feature complete with overhead walkway, which provides garden visitors with the sound of tranquility no matter where they are in the garden. An unexpected teeny tiny treat we experienced at this garden was a hummingbird nest with 2 wee eggs, and we were lucky enough to even get some video and photos of the mamma hummingbird in action.
Mike & Ron's Garden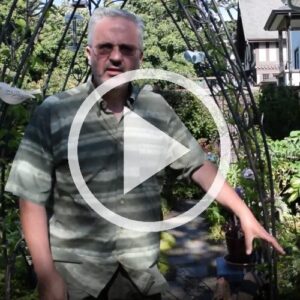 More on Mike and Ron's Garden

These two ambitious Toronto retirees designed and built this garden from scratch, and boy has it grown and filled out since they were on the tour back in 2016. Through the creative use of pots and containers, their tiny space includes a walking path, both bog and water gardens, and even a wee greenhouse for Mike's cactus collection. An inviting patio showcases even more goodies. It's no wonder their last small city garden was featured in Ontario Gardener Living magazine. This constantly evolving garden is proof positive that when you have a tiny space, you can still grow UP! An extra treat was that Mike provided a bonus DIY segment, providing us some valuable tips and tricks on how you can create your own hypertufa-like container garden!
---
Ask the Master Gardeners
What is the best place to plant peas? Can I transplant a rhododendron? What is wrong with my McIntosh apple tree?
Do you have a gardening question? The Victoria Master Gardeners are here to help! Send your questions to the Master Gardeners below.
Email: info@msvmga.org

---
Tour Victoria Hospice's
Rooftop Garden
Opened in 1997, the Victoria Hospice Rooftop Garden offers a peaceful and serene oasis for hospice patients, families and staff. Over the years it has seen weddings, card games with old friends, family get-togethers, tears, laughter, and death. Many return year after year on the anniversary of their loved one's death, to sit in quiet contemplation, ring the bell, or write in the garden journal.
Click and drag on the image to navigate the garden.
Show your Support

Donate today

Click here to donate

Almost half of Victoria Hospice's programs and services are funded by community donations. Support the Teeny Tiny Garden Tour and help us raise our goal of $20,000 for end-of-life care in our community!

Pick up a calendar

In lieu of a ticket this year, please consider purchasing a 2022 Garden Tour Calendar below! This beautiful compilation featuring exquisite photos from local gardens is sure to delight and inspire all year long.
Thanks to our generous sponsors, 100% of the funds raised will support end-of-life care.
Sponsored By
Media Sponsors