Written by Gayle Wigmore
My parents, Grace and Bill Wigmore, were great supporters of Victoria Hospice and donated to the organization for many years.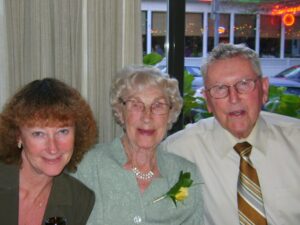 I was first introduced to Victoria Hospice when my dad invited me to attend a Victoria Hospice Donor Appreciation Tea with him. My mom had always enjoyed going with him in the past, but after she was diagnosed with Alzheimer's disease she was no longer able to attend. My dad had recently made the very difficult decision to move my mom into a care home, as caring for her was becoming more and more difficult for him, and it was having an impact on his health, so starting in 2011, my dad and I began attending these Hospice Teas together. It was at these events that I learned a lot about how Victoria Hospice operates, their reliance on community support to fund the majority of their programs and services, and the types of care and support they provide to so many patients at the end of their lives.
While my mom was in the care home, I visited her as much as I could, but my dad went up to visit mom every day. It was a difficult time for us, but it was reassuring to know that my mom was receiving the support and around-the-clock care she needed. My mom passed away in October 2015, at the age of 95, after her long battle with Alzheimer's. Losing my mom was very hard on my dad as they had been married for 67 years.
In December 2015 and January of 2016, my partner Paul and I started noticing changes in my dad's behaviour that were concerning. Dad was forgetting the simplest things and could no longer figure out how to use the stove anymore. He had lost his sense of taste and his desire to eat and seemed to be increasingly confused. Given our concerns, I took Dad to the doctor but at the time they could not find anything physically wrong with him. By the end of February though, he could hardly function anymore, so Paul and I took Dad into Emergency at the Royal Jubilee Hospital. After an overnight stay and a series of tests, the doctor diagnosed my dad with brain, lung and kidney cancer. This was devastating news, and unfortunately, given how advanced the cancer was, there was not much we could do for him except to keep him comfortable, so the doctor looking after Dad registered him for hospice care. We were informed that a bed was coming available very soon, but unfortunately, before he could be moved into Hospice, my Dad passed away, on March 10th a week before his 92nd birthday.
After losing Dad, I decided to continue my parent's legacy of support and started donating to Victoria Hospice myself. I attend the donor appreciation teas, taking different friends with me each time. This year, I made the decision that I would like to include Victoria Hospice in my will and decided to become a legacy donor. Even though my parents weren't able to benefit from hospice care themselves, I recognize the positive impact that this type of care has on patients and their families. I had a friend that was in Hospice two years ago, and while visiting her, I was very impressed with how caring and supportive the staff and volunteers were. I also had a chance to visit the very special Rooftop Garden, and I have since had a Memory Leaf created in honour of my dad which still hangs in the garden today.
– Gayle Wigmore, Victoria Hospice Legacy Donor
For simple ways to leave a legacy, or to explore how you can honour a loved one with a gift in your will, please contact Shelley Engelhardt. Call 250-519-1743, email shelley.engelhardt@victoriahospice.org or visit www.victoriahospice.org/leavealegacy. Your enquiry will be kept in confidence.
---
This story first appeared in our Spring Edition of our quarterly newsletter Transitions. Click Here for more details on how to subscribe and receive more stories like this.