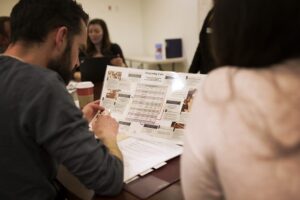 After many years of ongoing research, Victoria Hospice formally established a Research department in 2007, and merged with Education Services in 2017.
Over the years, we have conducted research in new pain drugs, bowel care, respiratory congestion, family support and children and bereavement.
Below, you will find a selection of featured research projects conducted by Victoria Hospice and various professionals in the field.
Featured Research Projects
Complicated Grief in Canada
Researchers explored complicated grief in the Canadian professional landscape.
Perceptions of Bereaved Family Members
Researchers explored bereaved family member perceptions of nursing care on an inpatient hospice unit.
Music Therapy for Seniors
Researchers studied the effectiveness of music therapy in hospice palliative care.
Other Research Projects
---
Clinical Tools
Victoria Hospice offers the following useful clinical tools to help healthcare professionals in their assessment or treatment of patients facing advancing illness, death or bereavement.
Our Palliative Performance Scale (PPS) – a tool for predicting survival – is used in most palliative care facilities in B.C. and Canada, is widely used in 23 countries around the world and has been translated into ten languages.
For more information on selected studies undertaken by Victoria Hospice, please contact us.
Questions?
Textbooks/Copyright
Lily Jones
Co-op Student
Courses/Events
Brittany Clark, Education and Research Projects and Events Coordinator
Practicums/Education
Anke Krey, Education and Research Facilitator