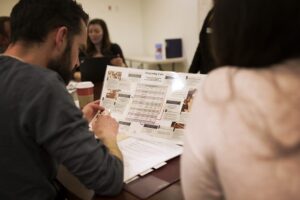 After many years of ongoing research, Victoria Hospice formally established a Research department in 2007 and merged with Education Services in 2017.
Over the years, we have conducted research in new pain drugs, bowel care, respiratory congestion, family support and children and bereavement.
Below, you will find a selection of featured research projects conducted by Victoria Hospice and various professionals in the field.
---
Bereavement Experiences and Supports in British Columbia – Research Survey
Victoria Hospice is involved with this provincial study conducted by the BC Centre for Palliative Care and the University of British Columbia's Division of Palliative Care. The study looks at bereavement experiences and supports in British Columbia to inform the development of priority actions and strategies to make effective supports accessible to more British Columbians with bereavement experiences.
We are seeking British Columbians who experienced a death of someone that was important to them since March 1, 2020. The deadline to participate is March 25, 2022.
Psilocybin-Assisted Therapy for End-of-life Emotional Distress Engagement Survey
A team of clinicians and end-of-life specialists; alongside partners from Victoria Hospice, TheraPsil, and the psychedelic medicine assisted therapy community, are interested in generating evidence that explores the use of psilocybin in the compassionate treatment of end-of-life emotional distress. They want to hear from you: What topics should future research focus on?
Featured Research Projects
Complicated Grief in Canada
Researchers explored complicated grief in the Canadian professional landscape.
Perceptions of Bereaved Family Members
Researchers explored bereaved family member perceptions of nursing care on an inpatient hospice unit.
Music Therapy for Seniors
Researchers studied the effectiveness of music therapy in hospice palliative care.
Other Research Projects
---
Clinical Tools
Victoria Hospice offers the following useful clinical tools to help healthcare professionals in their assessment or treatment of patients facing advancing illness, death or bereavement.
Our Palliative Performance Scale (PPS) – a tool for predicting survival – is used in most palliative care facilities in B.C. and Canada, is widely used in 23 countries around the world and has been translated into ten languages.
For more information on selected studies undertaken by Victoria Hospice, please contact us.