Expanding access to compassionate end-of-life care in our community
For more than 40 years Victoria Hospice has provided quality palliative and end-of-life care to patients and their families. Thanks to our partnership with Island Health and generous donor support, we have grown over the years. But there is more to do.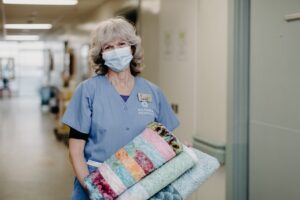 By 2035, the population of people aged 75 and over on Vancouver Island is expected to double.
To meet the individual and system needs, and to ensure a good quality of life for people who are dying and their loved ones, we desperately need a new facility.
The Victoria Hospice Society Board of Directors has worked from a set of criteria to ensure we found an appropriate home for expanded services to meet the future needs of the community.
Our site selection criteria included:
• Proximity to Royal Jubilee Hospital and other health and service facilities,
• A space to accommodate building infrastructure and have large garden areas, therapeutic outdoor space, and ideally integrating with natural spaces and a tranquil setting,
• A site that provided salutary and restorative outlooks and vistas for patients and families from the care and counselling rooms,
• Somewhere easily accessible that provided care in a home-like, neighbourhood setting.
Proposed Site
In October 2021, Victoria Hospice entered into an agreement with the Greater Victoria School Board to potentially purchase a triangular-shaped parcel of land adjacent to the South Campus of Lansdowne Middle School. The School District approved a bylaw to dispose of 1.3 acres of land on March 14, 2022.
The bylaw received approval from the Ministry of Education in late 2022. There's still a long road of feasibility study and community input needed, but we may be one step closer to expanding access to palliative end-of-life care in our community.
This potential new site allows for an array of environmental and social benefits, including multi-use green spaces for Hospice clients and families, creek restoration, and public greenway access.
We believe that the proximity to the Royal Jubilee Hospital and the natural attributes of Bowker Creek make this a location worth exploring for meeting the end-of-life care needs of our community.
Our Vision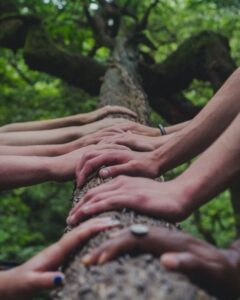 We aspire to create a campus of care with a mix of in-patient beds and community support programs and services.
A new home for hospice is envisioned to provide a welcoming and peaceful, home-like environment for patients and families, enable a greater diversity of care programs, and a hub for expanding community, education, and bereavement care programs.
Outdoor healing gardens will be a key component of a new campus of care providing nature-based spaces for reflection and quiet.
Bowker Creek
Bowker Creek is an important community asset running adjacent to the site we are exploring. To date, no remediation of this important part of the Bowker Creek Watershed has occurred. Should this site advance, Victoria Hospice is committed to restoring the creek and turning a currently hazardous space into a safer, natural habitat.
We hope you share our vision to bring the community together, including students and neighbours, with a natural environment to enjoy and learn in, and learn from.
Our community cares about compassionate care for people who are dying and the protection and restoration of Bowker Creek. Victoria Hospice and Bowker Creek are both essential to the health and well-being of our community. Please join us in the enhancement of both treasures for years to come.
Public engagement
As we proceed through the various phases of expanding Hospice services, our goal is to bring community together for dialogue and input. We are committed to the following public engagement principles to guide us through this process.
Raise awareness of regional need for increased Hospice services.
Share Victoria Hospice's vision for campus of care that provides a welcoming and peaceful, home-like environment for patients and families, enable a greater diversity of care programs, and a hub for expanding community, education, and bereavement care programs providing views of a restored Bowker Creek and easy access to green space including healing gardens.
Recognize the regional significance of Bowker Creek and the importance of this reach in the broader system, collaborate with stream stewards about how Bowker Creek can be restored and how Hospice funds can be leveraged to attract greater investment in the Creek.
Meet or exceed District of Saanich public consultation requirements for land-use applications.
Get Involved
Get the latest news from Victoria Hospice by subscribing to our Connections E-Newsletter. Questions about our future plans? Click here to contact us by email.
Watch this space as we add more project details over the coming months.