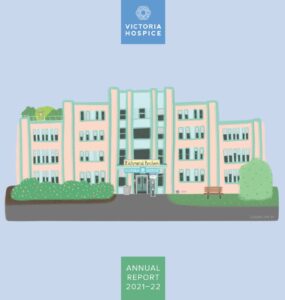 We are so pleased to highlight the work our donors make possible in this year's Annual Report 2021-2022.
Victoria Hospice supporters know hospice and palliative care isn't only about managing symptoms and making people physically comfortable. It's about closeness and humanity. It's about helping people through the hardest days of their lives.
We are so grateful to each and every supporter for standing on the frontline of compassion with us this year. Our compassionate donors demonstrated—once again—steadfast support for people who are dying, their loved ones, families, and chosen families.
Their generosity exceeded our expectations, providing $4.97M for essential hospice and palliative care on the Inpatient unit and in the community, and enabled us to meet the increasing need for bereavement services.
We invite you to read all about in our Annual Report 2021-22.