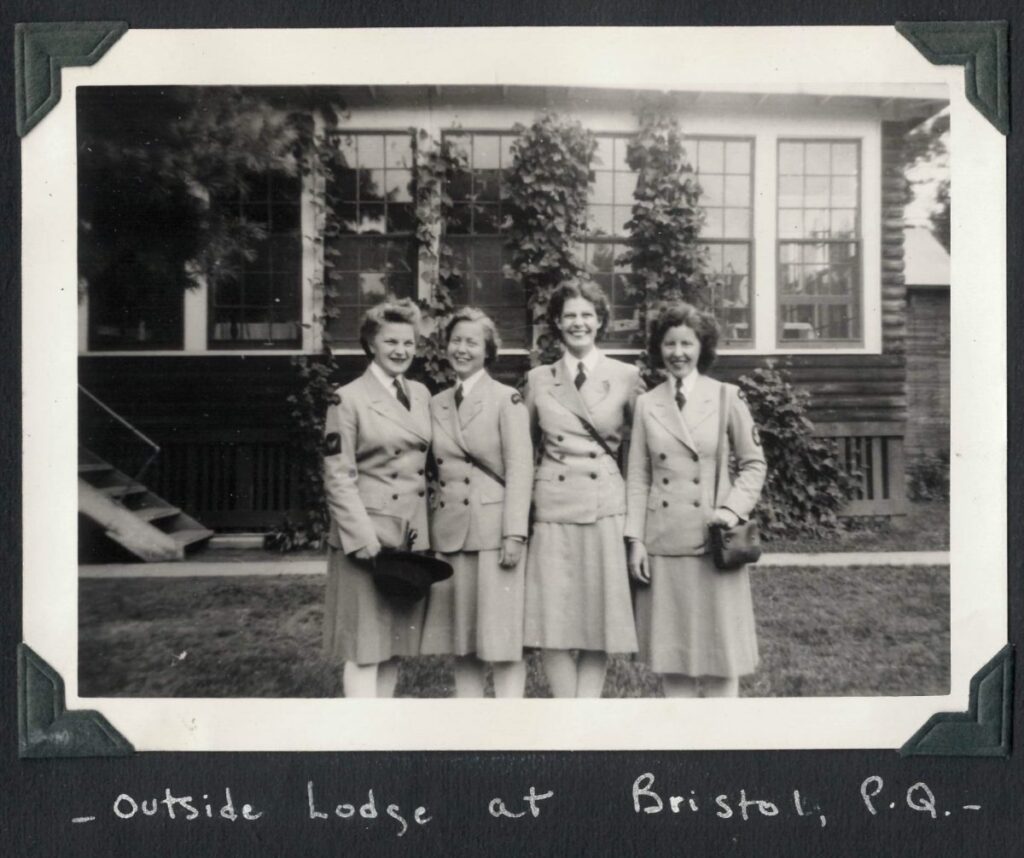 "They were like family….no, they were more than sisters."
In the summer of 1942, an extraordinary opportunity would bring together three young women for an adventure of a lifetime. As WWII's Battle of the Atlantic intensified, more men were required for sea duty, and this left a substantial amount of shore duty positions to be filled. To facilitate this, three Senior Officers were dispatched from England to help establish the Women's Royal Canadian Naval Service (WRCNS), commonly referred to as the Wrens. They toured Canada interviewing applicants between the ages of 18 and 49, single or married, but with no children or dependents. Lavinia "Vin" Crane, Elsie Michael and Alice "Ruddy" Adams interviewed and were accepted, and from that point forward, their lives would forever be intertwined.
The women travelled to Galt, Ontario in October 1942 to complete their Basic Training. There they joined the first class of Wireless Telegraphists (W/T's) studying naval traditions, history and discipline as well as learning how to march, salute, lay out their regulation 'kit' and make square corners. Following a further five months' intensive W/T training to become 'Special Operators', they were deployed to Gloucester #1 Station near Ottawa, with a pay increase to 95 cents a day. Vin, Elsie and Alice were now official members of the Canadian Naval Intelligence Service with connections to the Allied Naval Operations Centre in the U.K. and to the code-breaking station at Bletchley Park (although they wouldn't know the name of the latter until fifty years later).
The trio was drafted to open a Station at Coverdale, near Moncton, New Brunswick, and started 24-hour coverage immediately. Vin, Elsie and Alice formed the core of 'D Watch', working in the Operations room (Ops) to record all messages from German naval stations, ships and submarines. Intercepted messages were quickly transmitted by teletype to U.K. Operations and Bletchley Park. German control stations sent out their messages in a four-letter code form, and as they continually changed frequencies, the W/T's regularly scanned their receiver dials to locate them again. Most important was the watch for German submarines as the safety of convoys and naval ships was constantly threatened. Submarines had to surface in order to send messages, and, apart from the weather reports, their signals were urgent, breaking into traffic control at any time.
About a quarter of a mile out in three different directions from the Operations building were three granary-like buildings officially known as 'Shacks'. Heated by a small pot belly stove (the top often used to broil a mid-watch sandwich) and furnished with the bare necessities of life, a shack was the home of the very vital Cathode-Ray Direction Finding (CRDF) for taking bearings on submarines. As soon as a Wren in Ops heard a submarine, she immediately alerted the Shack, a bearing was taken and sent to Ottawa. These, along with bearings from stations in Newfoundland and the U.K. allowed the locations of the submarines to be pinpointed and convoys in the area to be rerouted if necessary. When a pack of subs attacked a convoy at the same time, all operators worked at high speed as messages were short and frequent.
When Japan entered the war, Alice was sent back to Signal School in St. Hyacinthe, Quebec for training in Kana, the Japanese version of Morse code. She learned to use four-level typewriters to transcribe coded messages. In January 1944, she was stationed at the Gordon Head Special W/T Station on the outskirts of Victoria, BC, intercepting Japanese naval radio traffic and employing radio direction finding to locate signal sources. The intercepts and data were passed to the U.S. Navy at Bainbridge Island, and then to Bletchley Park. The Station was part of an extensive network whose efforts in codebreaking and other forms of radio intelligence made a major contribution to the successful outcome of the war.
In the years following their service together, the bond between Vin, Alice and Elsie would remain strong even though they took very different paths. Elsie was married and had one son, and lived on a farm in Saskatchewan for 25 years before retiring to Victoria BC. Vin became a Public Health Nurse in BC, and after pursuing her Masters Degree, was appointed Provincial Director of Public Health Nursing for a decade before retirement. Alice pursued higher education to become a Research Librarian. She and her husband lived in Ottawa and raised three children, where she had a successful career with the Federal Government, retiring to Victoria BC.
When Elsie became ill with cancer in 1998, she was cared for at home until her final three weeks. She was admitted to the Victoria Hospice Inpatient Unit, where she received round-the-clock care for pain and symptom management. Vin and Alice came to see her daily, and were so pleased to see she was comfortable and positive in every visit. "Ruddy, you can have anything you want here," Elsie had shared. "I said I wanted some ice cream, and it arrived within minutes!" Alice recalls Elsie's relief that she could stay until her final day, safe in the knowledge that her needs would be attended to.
In their last visit, Elsie grabbed Alice's hand and said, "Ruddy, I'm going home today." She died peacefully a short time later.
Vin and Alice were so deeply touched by the compassion shown to Elsie, that they each became donors to Victoria Hospice. Unbeknownst to each other, they also established legacy gifts in their Wills. When Vin died in April 2017, her gift was realized, and her compassion is now helping to ensure Hospice care continues to be available in our community.
Alice, now 96, remembers her friends as strong and dedicated women with a bold outlook. She says with a fond smile and a twinkle in her eye, "They were like family….no, they were more than sisters."