A spotlight on community counselling
---
A life-limiting diagnosis can turn your world upside-down. Coming to terms with a loved one's illness and end-of-life care can be world-shattering for families too.
Our community counsellors provide registered Victoria Hospice patients and families with emotional support and strategies to help people live as well as they can throughout their end-of-life journey.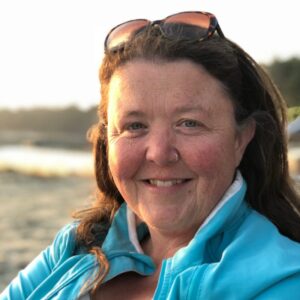 Leanne Drumheller recently joined our team of three community counsellors.  "My role is to meet patients and families in all their humanity. To be present. To bear witness to their suffering and to their joy," she says.
"It's an honour to be invited into peoples' lives as they face terminal illness, that they trust me and they let me in. It can be a profound invitation to support people to really experience themselves."
So many of the comforts and ways to cope with end-of-life just aren't possible during the pandemic, and that places extra strain on patients, Leanne says.
"When people know they're terminally ill, they want to take care of last bucket list items like travelling adventures or seeing loved ones on another side of the world. Even closer to home, it's a time for social gatherings, having people over for dinner, that kind of thing. The pandemic adds a layer of grief. People are much more isolated now."
About half of the community counsellors' clients are patients and the other half are family members who often experience caregiver burnout and isolation.
"Feeling all alone while facing losing the person you love the most is so painful," Leanne says.
Our counsellors are supporting people over the phone and through video chats, but Leanne says she misses the kind of connection you can make with being physically present. "We pick up so much care and attention with touch and nonverbal communication."
Occasionally people will ask if Leanne finds the work to be gloomy. On the contrary, she says.
"This profession is a constant reminder to live. Our clients could just as easily be us. Death and dying can come when we least expect it but one thing we know for sure – it is coming."