FOR IMMEDIATE RELEASE (VICTORIA – April 26, 2021) – On Sunday, May 2nd, join Victoria Hospice supporters in a gift box reveal event that celebrates fashion and compassion.
Purchase of a fundraising Kit for Compassion gift box admits you to the virtual event. Guaranteed to inspire self-compassion through style, taste and the senses, Kits for Compassion feature heart-centered self-care items, handmade goods and premium adornments from local artisans and retailers.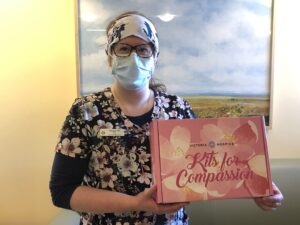 All funds raised support compassionate end-of-life care at Victoria Hospice.
Contributing vendors include Elate Cosmetics, Flux and Stone, Hands on Clay Collective, Love Medals, Metchosin Soapworks, The Still Room Perfumery, Rock Coast and Tofino Towel.
The virtual event features door prizes, fashion tips from Turnabout Luxury Resale, and a performance by Oak Bay vocalist Stephanie Greaves.
Local and Canada-wide delivery is free! Related products and services also await your bid at Victoria Hospice's virtual silent auction.
Secure your ticket and Kit for Compassion at victoriahospice.org/kitsforcompassion or call 250-519-1744 for more information.
Kits for Compassion is presented by Amica Senior Lifestyles. Sponsors include Peninsula Co-op, Broadmead Pharmasave, Horne Coupar LLP, Megson Fitzpatrick, BMO, VandeRuyt Wealth Management, and Used.ca.
What: Kits for Compassion virtual event
When: May 2, 4 p.m.
Where: Online
How: Event admission free with gift box purchase at
VictoriaHospice.org/KitsforCompassion
Price: $250 ($300 retail value)
Did you know? Donations fund almost half of Victoria Hospice's annual operating costs and are critical for the ongoing operation of programs for patients and families and for education and research. Last year, Victoria Hospice raised over $4 million dollars. This remarkable accomplishment was made possible by generous donors and community events. To learn more about any of these events or how you can support end-of-life care in our community visit www.victoriahospice.org.