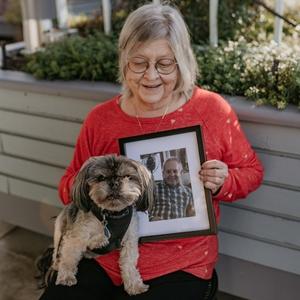 Celebrate a Life
The holiday season is a time for sharing memories of family and friends who are no longer with us. Join us in celebrating a life.
Dedicate a Star

Since 1985, Celebrate a Life has provided a unique opportunity for people to remember their loved ones. Each year hundreds of tributes are hung on our festive tree. This year, stop by the 4th Floor of Victoria Hospice from December 1 – 23 to hang a star in honour of a friend or loved one you have lost. You can also request a star be mailed to you by calling 250-519-1744 or dedicate a star online.
Stars in Memory
Click on stars to read recent tributes.
My Tribute To:
Florida Laforest
My Message:
Mom, There hasn't been a day since you passed that I haven't wanted to pick up the phone to ask you about something. Last month I was asked if I had your Molasses Cookie recipe. The one you made for pure lunch boxes. Anyhow, Hilda had the complete one which been shared with all the women in the family. Most make them at Christmas time. Christmas Day is two days away. First one without you. You were in Hospice. I miss you and love you forever. ❤️
From:
Anne laforest
My Tribute To:
Melanie Jane Clements
My Message:
You are forever in my heart. "Blow in my ear" as you said you would. I know that you are warm in the hands of Our Lord! I Am Not Asleep My eyes still shine, tho' you can't see them. Even tho' your hearts bleed sorrow, Know that Glory waits out here. While your sad souls sing. I dance with the stars tonight, For I am not asleep.
From:
M
My Tribute To:
Hazel June Halpin
My Message:
Mom died at Hospice on June 6th, 2022. at 91 years young. She was a shining star. A wonderful mother, friend and Grandmother. MAy she rest in peace and Perpetual always light shine upon her. We love you Mom. JAckie
From:
Jacqueline Ray
My Tribute To:
Lee Humble
My Message:
I'll never stop loving you. I miss you so much.
From:
Lavona
My Tribute To:
Tara Ross
My Message:
In loving memory of my Wife.
From:
Mike Ross
My Tribute To:
Ambrish Thakkar
My Message:
Dear Ambrish, Papa, you were an amazing and bright soul who always filled our house with joy, laughter, and happiness every Holiday season. Your good values and memories live on in your children. May you find peace and strength this Holiday season and know that your family and friends will cherish the beautiful memories we shared together.
From:
Your caring daughter, Vidhi Thakkar
Grief and the Holidays

For many people, the holidays can be the most difficult time of the year. Memories of past celebrations with family members or friends who are no longer here can magnify feelings of loss, and you may feel unsure about how—or even if—to celebrate this year.

Grief has a timing of its own, sometimes appearing – or disappearing – when we least expect it. If you experience this ebb and flow of feelings – even years after your loved one died – understand that it is common and a normal aspect of the grieving process.
Tips for Coping with Grief Over the Holidays
Need More Support?
Victoria Hospice Bereavement Services are available to help you understand grief and adjust to your loss.
Programs are open to everyone and many are free of charge thanks to generous community support.
Contact by calling 250-519-3040 or by email at Hospice.Bereavement@viha.ca
Thank You to Our Generous Sponsors