Support during COVID-19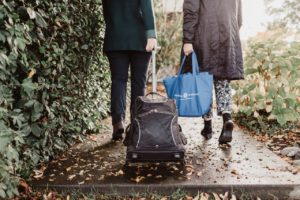 While our care team and counsellors continue to provide support on our unit and in the community, we recognize there are many others who may need support in our community. During the COVID-19 Pandemic, Victoria Hospice is here to support you.
If you're dealing with end-of-life, caring for someone who is, or grieving, our team of volunteers and counsellors are here to support you and your family.
Please call 250-370-5789 for details or fill out the webform below.
Counselling Support
Victoria Hospice's professional counsellors are here to support you through life-limiting illness, dying, and grief. Our counsellors are able to provide individual and family support through phone and video sessions.
If we aren't the best support for your situation, we will do our best to connect you to a service or resource that will better fit your needs.
Volunteer Support
Our highly-trained volunteers are here for you. Our volunteers can provide assistance such as:
Phone calls and video chat for companionship and support
Recorded audio "Lifestories" interviews for patients
Outdoor support activities (yard work, garbage and recycling etc…)
Shopping and Delivery
An asterisk (*) below denotes a required field
*Please note that information from this form will be stored for outreach purposes.