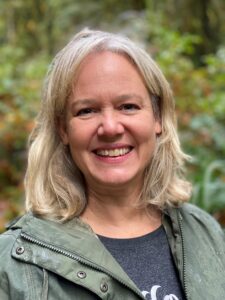 Victoria Hospice is pleased to announce the appointment of Dr. Christine Jones, MD, CCFP-PC to the role of Medical Director effective Jan. 19.
"Dr. Jones has long been an advocate for excellence in palliative and hospice care and her dedication is inspiring," Victoria Hospice CEO Kevin Harter says. "I am delighted such a highly skilled physician and educator has accepted this key leadership role as we expand to meet the growing needs of our community."
She began a career in family medicine with a largely geriatric population in 1995. Her patients often required a palliative approach to care and frequently accessed Victoria Hospice services. She was invited to join Victoria Hospice as a consulting palliative care physician in 2000 and since then, "I never looked back," she says.
"I feel so very privileged to care for patients and families at this important time of their lives."
Dr. Jones attends patients and families at hospice, in the community, with the Victoria Hospice Palliative Response Team and Island Health's Home and Community Care Teams, in acute care, and long term care.
In addition to being a lifelong learner with specialized training in clinical care, quality improvement, leadership and education, Dr. Jones is a facilitator and educational designer in Victoria Hospice's Palliative Care Intensive course. She is a Master Facilitator in Serious Illness Conversation and LEAP (Learning Essential Approaches to Palliative Care), and she has mentored countless medical students, residents, and fellows. She has been widely published and has presented at the McGill International Congress in Palliative Care.
"I look forward to strengthening my relationships with the team and our partners collaborating and nurturing excellent end-of-life care at the bedside, within our teams, and in our community," she says.