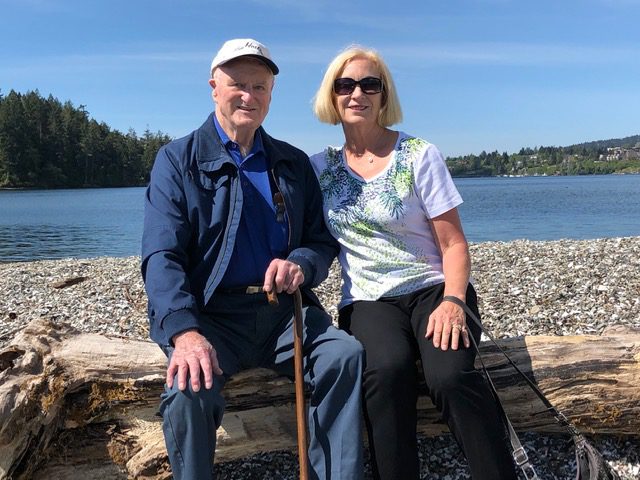 As we celebrate Father's Day this year, we celebrate Victoria Hospice Legacy Donors and father & daughter Darrel Nute and Leslie Reece. Leslie shares with us, in her own words, why she and her Dad Darrel have both taken the inspiring step to plan a legacy gift to Victoria Hospice:
"My first encounter with Victoria Hospice was upon the diagnosis of my husband's asbestos cancer. Our Hospice Home Care nurse was so very kind, understanding and supportive. She made our days seem comforting and our future calm. She was our first connection.
A few weeks before my husband passed away, my parents were over for a visit. It happened to be the day our Home Care nurse was also popping by. My Mom, quite distraught, asked, "why is such a young fellow on the brink of retirement, in his 50s, being taken when I'm an old lady and would gladly take his place?" our nurse's Hospice experience and compassion was exemplary in dealing with and comforting my Mom. I will never forget that day. I was caught between helping my husband and my Mom and our Hospice nurse just stepped in and handled it all, with such ease.
Later after my husband died, I attended the young widows grieving group sessions and found them to be invaluable. Hospice also reached out to my Mom and she too had visits for counselling.
My Dad was very impressed and appreciated all they did for Mom. I can't say enough about the kindness my family and I received.
My Mom passed away a few years later, but with great inner peace knowing her family would be in good hands with Victoria Hospice support if needed.
Once my grief broke through to better days, I knew I wanted to support Victoria Hospice. I wanted to make sure that others would be able to have the support and kindness shown to me and my family, for years to come. After doing some research, I was shocked to learn that half of Victoria Hospice's annual costs are donated by the community. How can an organization plan for the future without monthly donations and those who give through their estates?
Together, my Dad and I feel strongly about supporting Victoria Hospice, so much so that we have made legacy gifts in our wills. It's a way of showing how much we care and our return of support for Victoria Hospice, who cares for others."
Thank you Leslie and Darrel, for your generosity, vision and foresight. Wishing you and all of those in our community celebrating a very Happy Father's Day!