Victoria Hospice joins with the Canadian Hospice Palliative Care Association (CHPCA) to observe National Bereavement Day in Canada Nov. 17, 2020.
The CHPCA campaign encourages Canadians to support each other in grief on a shared journey of compassion, and to join together in remembrance even though we are apart this year.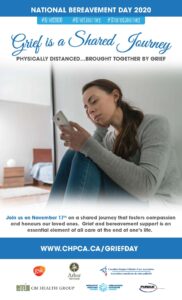 "It is important that you and those who care about you know that grief is a journey; some part of you will always love and miss the person who died. We learn to live with the loss and grief in ways that maintain and honour our bond with the person who died but don't limit our capacity for joy, pleasure and a meaningful life", says CHPCA Executive Director Sharon Baxter.
"At this trying time, we might be physically distant, but we are emotionally, spiritually and socially connected through our grief."
The trauma and disruption of 2020 has highlighted the need for extending ourselves to others despite the pandemic, says Victoria Hospice CEO Kevin Harter.
"Kindness and connection are what's needed most by the community of people who have experienced, or are experiencing, or will experience grief. That's every single one of us," he says.
CHPCA provides Canadians with many helpful resources for those living with grief and bereavement. This year's CHPCA National Bereavement Day resources are available share with friends, family and loved ones who are experiencing grief.
More resources are available at the Canadian Virtual Hospice and from Victoria Hospice Bereavement Services.
Read the full CHPCA press release.