Victoria Hospice's Cycle of Life Tour, set for July 28–29, has broken a record — even before it's taken place! Registration this spring sold out in just 24 hours.
One of the lucky cyclists to secure a spot on the two-day ride is Terry Pettigrew (3rd from the right in photo), an Account Manager with Cisco. Last year Terry rode with business associates and long-time sponsors of the event, Think Communications.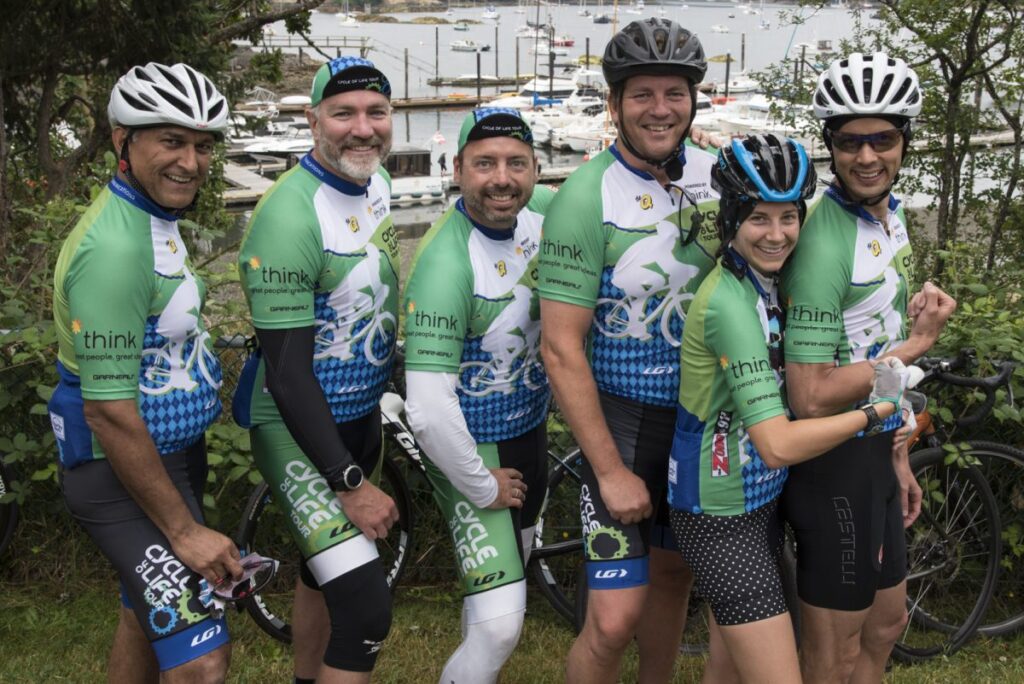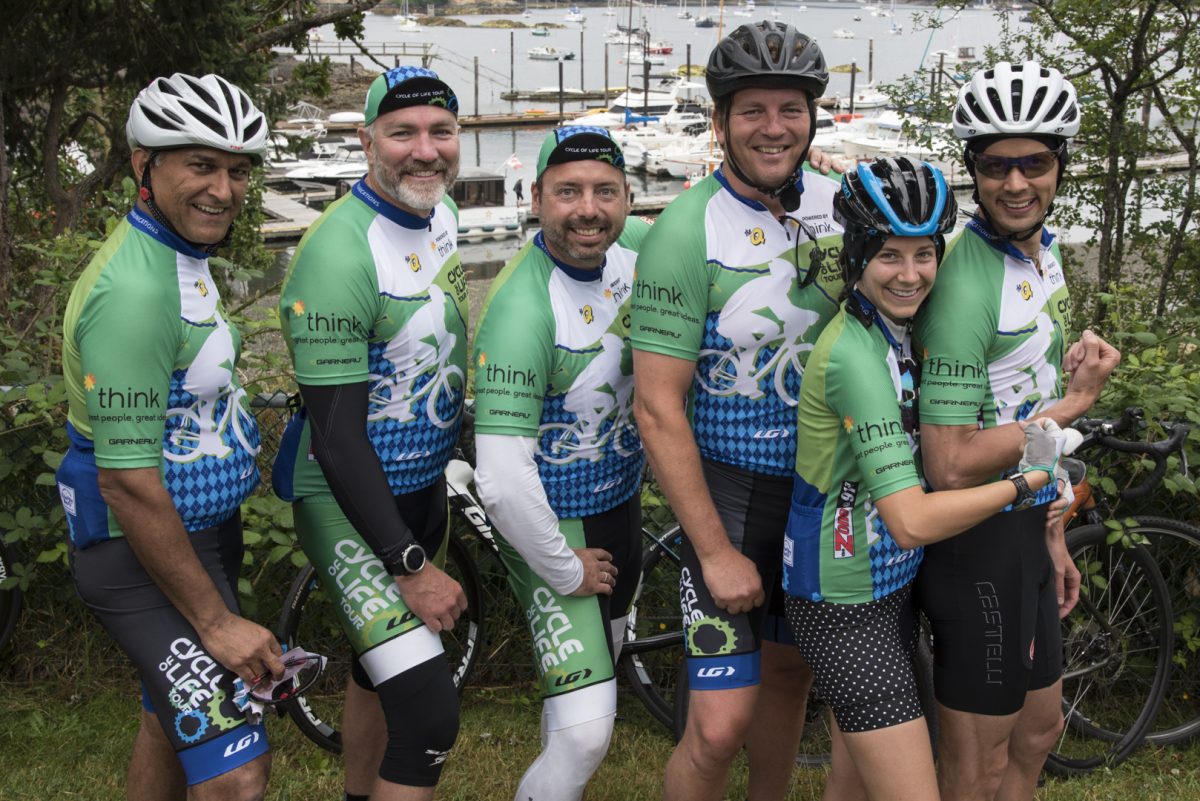 "I'm a big cyclist and had done some mountain biking trips, but never a tour like this." The camaraderie, the scenery and the cause made for a truly memorable experience. "I think I met just about all the riders," said Terry. "Everyone was so friendly."
This year Terry is back with his own team of Cisco employees, called The Blazing Saddles. Thanks to an employee matching program and their creative fundraising efforts, the team is set to make a big impact.
The Blazing Saddles are actively canvassing their Cisco colleagues from across Canada. With Cisco matching employees' donations to charity, dollarfor-
dollar up to $10,000 per employee per year, the results of their fundraising efforts will be doubled! The company also donates $10 per volunteer hour and
provides employees with 5 days of paid volunteer time off per year.
As Terry and his teammates are a musical bunch, they are also hosting a Blues Night fundraiser at the Royal Victoria Yacht Club in June. Terry is most excited about the Vegas-style tip jar on the piano. "The idea is we'll take requests, but the larger the tip, the more likely we'll be to play your song."
The cause is important to Terry because his father, George, received Hospice care nearly 15 years ago. Terry is grateful for the support he and his family experienced. "They took over the dayto-day worrying so we were able to just spend time with him, tell him we loved him, and that was the important thing."
By combining their talents and tapping into support from their employer, the Blazing Saddles are making it possible for more families to benefit from hospice care and spend important time together. You can help them blaze through their fundraising goal by donating to the Blazing Saddles team at www.cycleoflifetour.ca.
---
The Cycle of Life Tour is an annual, two-day, group cycling fundraiser that takes 85 cyclists nearly 200 km in support of Vancouver Island hospice care. Since 2011, the event has raised over $500,000. Special thanks to sponsors of the Cycle of Life Tour for making this important event possible, including: Think Communications, Country Grocer, Oak Bay Bicycles, The Zone @91.3, 100.3 the Q, Vancouver Island Real Estate Board, First Memorial Funeral Services, and Island Mediquip.