The Victoria Hospice Rooftop Garden – a peaceful oasis for hospice patients and families – opened in 1997 thanks to generous donations from our community. It has been lovingly maintained by our dedicated garden volunteers ever since.
The total years of service of these volunteers (from left to right: Mike Ross, Kathleen Laird, Elizabeth Garrett, Wendy Wimbush, Gill Ellis, Melanie Jacobs) is a whopping 75 years!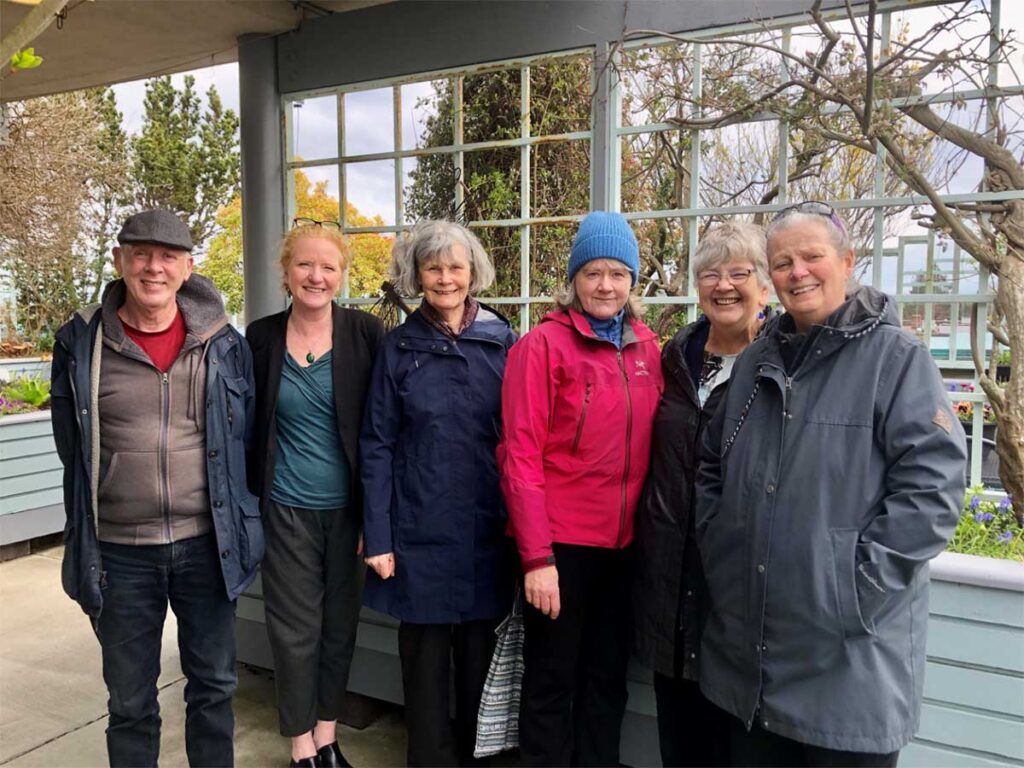 Over the years the Rooftop Garden has seen weddings, card games with old friends, family get-togethers, tears, laughter, and death. Many folks return year after year on the anniversary of their loved one's death to sit in quiet contemplation, ring the memorial bell, or write in the garden journal.
Although all the Rooftop Garden volunteers share a spirit of generosity, each person chose to offer their gift of time for a different reason.
Mike joined us a year after his wife Tara received hospice care. "For me it was a no-brainer. I wanted to give back to an organization that gave both Tara and our family so much care and support when we truly needed it," Mike says.
Elizabeth was drawn to the warmth, compassion, and genuine love that she witnessed from Hospice staff, she says. She is a Unit and garden volunteer. "I have volunteered a lot of places and this is the most rewarding experience I've had," she says.
Melanie, who also volunteers as a Bedside Singer, recalls a touching encounter. A patient was lying in bed in the garden. His son turned to Melanie to say, "this a perfect day for my dad – sun on his face, a dog cuddled up next to him, surrounded by plants."
Kathleen, a Master Gardener and the lead Rooftop Garden contractor, has been tending the garden for close to twenty years. She has cherished moments like convening with visiting hummingbirds, or being in the presence of a grieving family while they take in the sunset. One time a young man whose mom had just died approached her. "Can I have a hug?" he asked. "You remind me of my mom."
The Rooftop Garden is a place of peace and reflection as well as a source of strength and inspiration.
Katie Tarasiouk, whose mom died at Hospice in 2016, says: "Mom always felt so good at Hospice, but she was most relaxed on the Rooftop Garden. She loved nature. For her to be in fresh air, to see green, to see the sky, to smell the flowers – it was so magical!"
These words from a grateful family say it all. "The garden is vibrant yet gentle – like the rest of the Hospice. Thank you so much for caring so beautifully."
We share their gratitude!
Did you know? The Rooftop Garden will be a stop on this year's Teeny Tiny Garden Tour on Sunday, June 11. There will be free ice cream and a Door Prize entry barrel!