People in bereavement know being together helps. That's why hundreds join up to honour cherished loved ones at Hike for Hospice every year.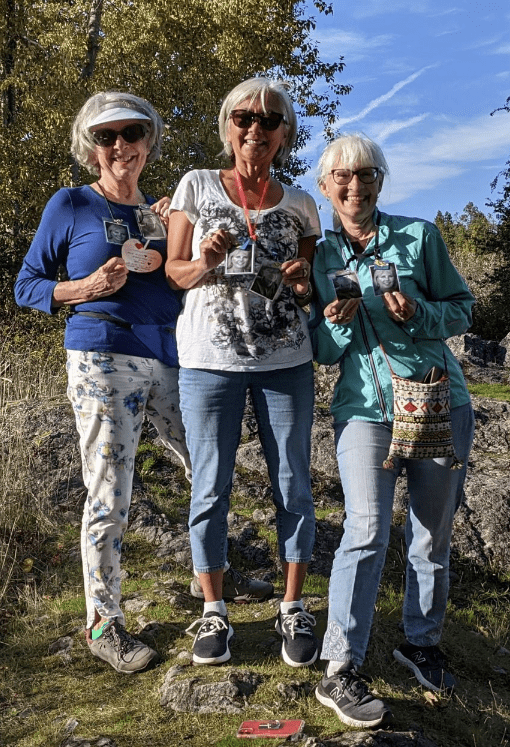 Hike for Hospice is back at Fisherman's Wharf Park on Sunday, May 1, 2022. Longtime friends Annette, Brenda, and Connie will be there. They've been Hiking for Hospice together since 2013.
They joined forces to fundraise and commemorate their dear friend and colleague, Marguerite, who received end-of-life care at Victoria Hospice. She was so easy to love, they say, and she left a wonderful impression on everyone around her.
"I don't think there was anyone who didn't like Marguerite," says Brenda. "She always had a smile on her face, and she was a very genuine, lovely person and very strong. You just wanted to hug her all the time."
The trio says Hike for Hospice is a way to actively celebrate the person you are missing.
"We talk about the good times, and it gives us a chance to remember," says Annette. "It's a great opportunity for anyone who is missing someone you love to go out there and be with people who know how you feel – to be with others and to be there for others."
After Connie's husband, Brian, died in 2017, she experienced support from Victoria Hospice first-hand.
"When people think of hospice, they think of end-of-life care, but it's so much more than that," says Connie. Although Brian was not a hospice patient, Connie was able to access counselling support from Bereavement Services.
"It was mentioned to me, and I followed up on it. It was amazing – both the individual and group sessions. I'm still in touch with a couple of the gals who I met through a hospice counselling group. Their services are incredible and I'm really grateful for them."
Join Annette, Brenda, and Connie (aka Team Marguerite & Brian) and others for a 3.5 scenic walk starting and ending at Fisherman's Wharf Park to support patients and families in the Victoria Hospice circle of care. Check-in and entertainment begin at 9 am and the walk gets underway at 10 am.
Registration opens Feb. 15, with friendly competition for recognition and awards for the top team and individual fundraisers and for the Workplace and Service Club Challenge. Four-legged walkers can compete for the coveted Pawsitive Spirit and the Best-dressed Dog Awards.
Check-in and entertainment begin at 9 am and the walk gets underway at 10 am.
Although the Dallas Road route is accessible for people comfortable walking 3.5 km among groups of people, some participants may choose to Hike on Your Site, for any distance, whether at a park, condo building, retirement residence, or anywhere else that suits you!