Victoria Hospice joins with the family and friends of Heather Wheeler to mourn her death on Jan. 10, 2022. Heather owned and operated The Avenue Gallery in Oak Bay village, and she was a longtime and cherished member of the Victoria Hospice community.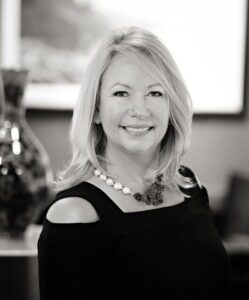 Heather always found creative and generous ways to support compassionate end-of-life care at Victoria Hospice. The gallery's All that Glitters and A Little Something… events raised funds for hospice year after year.
Heather also provided steadfast support for the Teeny Tiny Garden Tour, sponsoring gardens, providing reception space at the gallery for garden tour events, and providing a matching donation for the virtual garden tour in 2020.
"Heather brought such a beautiful spirit of generosity and community connection to her support for hospice," says Wendy Innes, Interim Director of Development. "We are heartbroken for her family and friends, we and extend our heartfelt condolences."
In a beautiful obituary, Heather's husband Larry Wheeler said he and the gallery staff will continue Heather's work of representing some of Canada's most talented artists.
She will be greatly missed.