Note: This article ran in the March 2020 edition of the Times Colonist 55+ section.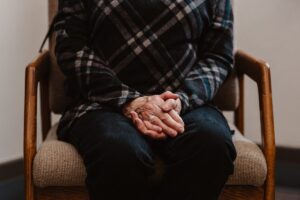 In many of our materials at Victoria Hospice, we display an image of a labyrinth as a metaphor for grief. There are no dead-ends or wrong turns and even though you may feel isolated, there is a path to travel.
In these uncertain times concerning COVID-19, please know that Victoria Hospice is here to support you. 'Social and physical distancing' and staying at home can be isolating, but our team of trained professionals is still providing support. Our counsellors are providing counselling sessions by phone and through videoconferencing.
Here a few points to remember in uncertain times:
Individual differences in grieving styles
Although grief has some common features, how you grieve is unique to you. It is a reflection of your personality, your previous losses, and the relationship that you had with the person who died. Each person in your family will grieve in their own way and at their own pace.
Grief is a natural process
The grief you feel when someone important to you dies is a natural expression of the important and meaningful connections you share. Grief is a normal response to loss and part of all of lives.
Time for Grief
Despite what you may hear about 'getting over it' or 'the first year', there are no predictable timelines for grief; it takes as long as it takes. Although the intensity of grief usually diminishes over time, there will always be times when your grief is surging and you feel it more strongly. This time, as we all are coming to terms with COVID-19, feeling uncertain about our own and each other's well-being and safety may be a time when your grief is more present.
---
In these times of change and forced distance, know that you are not alone. Call Victoria Hospice's Bereavement Services at 250-519-3040 for counselling services and resources. You do not need a prior connection to Hospice to receive counselling and support.
You may also want to check out the great resources and information provided by one of our close partners, Canadian Virtual Hospice: MyGrief.ca and KidsGrief.ca.