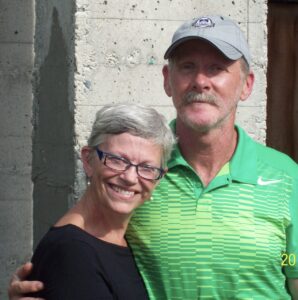 As a soft breeze blows, several copper and stainless-steel leaves catch the light while swaying among the trees in the Victoria Hospice Rooftop garden. This special space is filled with a variety of shrubs, trees, and flowers that create a natural oasis for hospice patients and families. These particular leaves are distinct and deeply meaningful. Hand-cut by a local artist, each unique leaf displays the name of a loved one who has been in the care of Victoria Hospice.
Mike Ross became a Rooftop Garden volunteer a year after his wife Tara received hospice care. "For me it was a no-brainer. I wanted to give back to an organization that gave both Tara and our family so much care and support when we truly needed it," Mike says. He had a Memorial Leaf created in memory of Tara, which hangs in a special place. "I have put her leaf right where I can see it each time I come up to the garden. It means a lot to me, our kids and our grandkids to have a memorial leaf hanging here in honour of Tara, and to give a bit of the same comfort and support we received to others."
The Victoria Hospice Memorial Leaf program is a unique and meaningful way to support compassionate end-of-life care while honouring the memory of a loved one. Call Raisa at 250-519-1744 or email donate@victoriahospice.org to learn more.