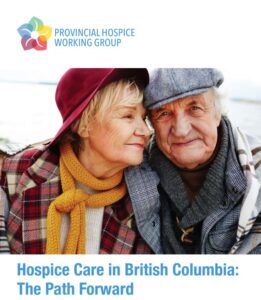 By 2036, one-quarter of BC's residents will be over the age of 65. Older adults in BC want to age safely at home, and to have a say in their care and death—a desire that will burden the current health care and social systems in BC.
A new report from the Provincial Hospice Working Group (PHWG), proposes a series of actions to prepare hospice organizations to work together to address the needs of British Columbians affected by aging and serious illnesses in local communities.
Hospice Care in British Columbia: The Path Forward is the result of a year-long project including research activities and extensive consultation with key stakeholders in the health system and community.
The report highlights the current state of hospice care in BC and calls for collective action to enrich existing strengths, build sustainable infrastructure, and develop new capacity and skills for hospice organizations in a 10-step action plan.
The first step is to form the Hospice Care Alliance of British Columbia, which will include representatives from hospice organizations, government, health authorities, professional and community-based organizations, researchers, as well as patient and family groups, to bring the vision of The Path Forward to life.
Victoria Hospice is one of the founding members of the PHWG, which includes representatives of the British Columbia Centre for Palliative Care, the British Columbia Hospice Palliative Care Association, the Sovereign Order of St. John of Jerusalem, Knights Hospitaller, and the Vancouver Island Federation of Hospices.