FOR IMMEDIATE RELEASE VICTORIA (Sept 13, 2019) – On Tuesday September 17th at Highland Pacific Golf Course, Craig Johanson will try to do what many golfers hope happens once in their lifetime.
Johanson will attempt to hit a hole-in-one, raising funds for Victoria Hospice.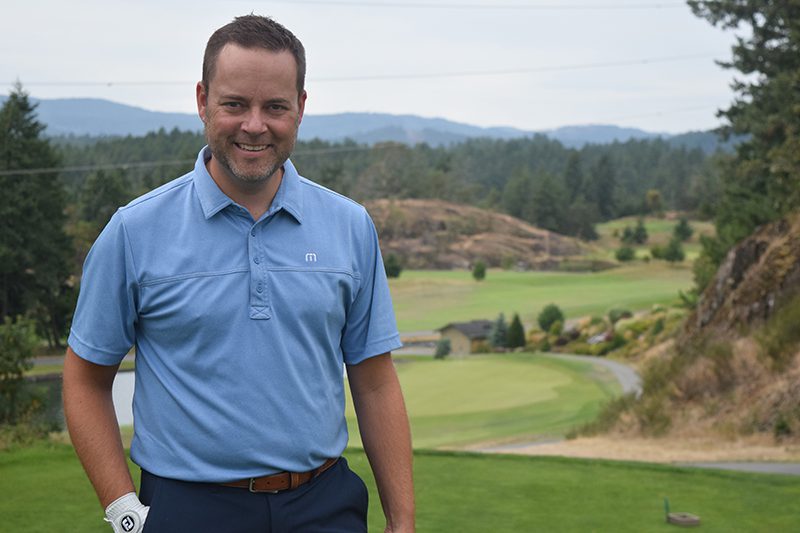 In 2006, Johanson's father received care from Victoria Hospice. He describes that time in life as "actually a very good time, as difficult as it was." His father was receiving the care he needed, giving the family the opportunity to be in one place. The staff and volunteers, he says, were all so kind and helpful.
"They made what was the hardest thing in all our lives a much easier experience."
Johanson's story is what inspired him to raise funds for Victoria Hospice through a pastime he loves. Having golfed his entire life, he saw a similar event online that inspired him to start 'Hole in One for Hospice.' The public has been receptive to Johanson's efforts, even pledging to donate using side-agreements on how fast he gets the hole-in-one.
"Everyone has a place, an experience in their life for hospice," says Johanson.
Hosting a community event can be a great way to remember a loved one, says Shelley Engelhardt, Development Officer at Victoria Hospice. Not only do events raise funds for essential programs – like bereavement services and Victoria Hospice's Palliative Response Team – but they also provide an opportunity to honor and remember loved ones in a meaningful way.­
Fundraising events "can be as simple as doing something you love, like hitting golf balls," says Engelhardt.
It's what Johanson will be doing Tuesday September 17th. When people ask what he's doing that day, his answer is simple.
"I'm getting a hole-in-one," says Johanson. "It's not very often you can say that."
Event details: victoriahospice.org/event/holeinoneforhospice/
Did you know? Donations fund almost half of Victoria Hospice's annual operating costs and are critical for the ongoing operation of programs for patients and families and for education and research. Over the past year, Victoria Hospice has raised over $3 million dollars. This remarkable accomplishment was made possible by generous donors and community events. To learn more about any of these events or how you can support end-of-life care in our community visit www.victoriahospice.org. -30 –
Media Contact: Shelley Engelhardt, Development Officer – Third Party Events, Victoria Hospice Tel: 250-519-1729, Email: shelley.engelhardt@victoriahospice.org, Web: www.victoriahospice.org