"Unforgettable." That's Phonyin Tim.
Quick with a quip, radiant with intelligence and empathy, diminutive and strong.
The longtime Victoria Hospice volunteer left family, friends, and admirers who all say the same thing: they were better for having known her. She died at Victoria Hospice Mar. 7, 2020, at 89.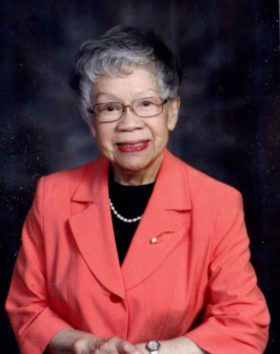 She also left a legacy through her will for the patients and families she cared so much about.
"Phonyin Tim was a deeply respected member of our hospice community who touched so many lives," says Victoria Hospice CEO Kevin Harter. "We're grateful for all the ways she supported hospice over the years."
Phonyin joined Victoria Hospice as a volunteer in 1994 and generously gave her time on the Inpatient Unit, the Rooftop Garden, and in key administrative projects.
Her nephew, Colin Wong, recalls her eloquence, indominable style, and wit made Phonyin so memorable to everyone she met. "When people saw her or spoke to her, they took a moment," he says. "It was so unique to be in her company."
Phonyin was dashing, too, in her baby blue 1960s VW Bug and trademark red lipstick.
"She was so tiny, but her heart and her spirit made her a giant to me," says Tracey Walker, former Victoria Hospice financial analyst. I had to look down when we were speaking, but I always figuratively looked up to her. She was larger than life and shone so brightly, such a pleasure to be with."
Phonyin was an English major at the University of the Witwatersrand in Johannesburg when oppressive apartheid laws and segregation were introduced by the National Party. Like other non-white communities, South African Chinese people faced extreme discrimination.
She emigrated from Johannesburg to Victoria, solo, in 1967. That year, she joined the University of Victoria and held the positions of Department Secretary for the Departments of Political Science and English. In 1982 she became Executive Secretary to the Victoria General Hospital Executive Director, and held senior administrative roles in healthcare until she retired in 1993.
"Here you have a single woman emigrating to Canada on her own – she really was pioneering in the way she went about things," says Colin. "But Victoria was her home from the day she arrived; she loved the city. And she was enormously proud of being Canadian. On the fiftieth anniversary of her arrival in Canada, she booked an entire restaurant to celebrate the occasion with her many friends."
Phonyin's masterful skills found a valued place in the organization of patient information resources at Victoria Hospice, says Kay Larsen, former volunteer manager.
"Phonyin was known by all who interacted with her for her smile, her sharp wit, and genuine caring for hospice. Phonyin had worked in health care throughout her career, and it was a testament that in her retirement, she chose to share her time with hospice. I loved having her pop in my door at the start and end of her Friday afternoon shift. She would always have a funny remark that would brighten my day."
Hospice also was a place of connection for Phonyin at the end of her life.
"Sometimes when people are admitted to hospice, you're not quite sure how they will take it. For Aunty Phon, it was home," says Colin.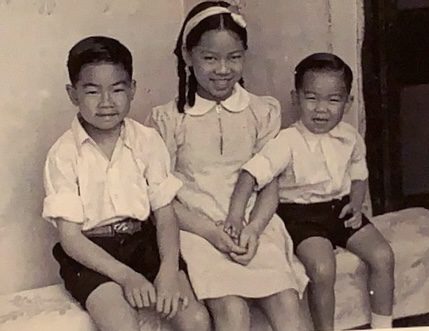 Her room became a gathering place for friends and family.
"Everyone was stopping in to see her, and hospice did a lot to embrace all the visiting. She knew so many people – even Todd, her letter carrier, made a point to visit," Colin says. "Friends and colleagues from her long time in Victoria, and family from far away came to see her."
The family fondly remembers a special moment when Phonyin was delighted by a surprise visit from Gilbert, a great-nephew she had not yet met – all from all the way from England.
"Here you have someone who is enjoying her life so much, but you know how sick she is," Colin says. "For those 30 days, hospice was very comfortable for her."
Phonyin's legacy gift will help ensure others are also surrounded by compassionate care at the end of life.
"We were so lucky to have Phonyin as a member of the Victoria Hospice community," says Director of Development Wendy Innes. "She graced us with her exceptional generosity of time and spirit for so long, and now, her gift will support people in the future."