January 25, 2022 – Victoria Hospice is one step closer to expanding access to palliative end-of-life care in the community.
A Greater Victoria School Board (GVSB) bylaw to subdivide and sell 1.9 acres of land to Victoria Hospice passed the first two of three required readings Jan 24.
The bylaw, "School District No. 61 (Greater Victoria) Lansdowne Middle School, South Campus (formerly Richmond Elementary School) Site Partial Disposal Bylaw 2022", involves a triangular-shaped parcel of land bordering Bowker Creek.
In addition to the third reading of the GVSB land disposal bylaw on Feb. 28, the sale is subject to approval from the Ministry of Education and rezoning by the District of Saanich.
"It's still a long road ahead for us but we are optimistic about this ideal site for a new home for Victoria Hospice. The natural attributes and proximity to Royal Jubilee Hospital make this proposed location a perfect fit for our Hospice patients and families," says Victoria Hospice CEO Kevin Harter.
For more than four decades, Victoria Hospice has worked to enhance the quality of life of people facing life-limiting illness, death, and bereavement. The need for new and enhanced programs and services is clear: the population of people aged 75 and over on Vancouver Island is expected to double by 2035.
"To meet the individual and system needs and to ensure a good quality of life for people who are dying and their loved ones, we desperately need a new facility," says Harter. "We have searched and researched dozens of possible locations for more than 15 years."
Restoration and flood management of the sensitive Bowker Creek waterway is key to the design intent of the site. The goal of the Victoria Hospice site development is to meet the objectives of the 100-year action plan to restore the Bowker Creek Watershed defined in the Bowker Creek Blueprint.
The Victoria Hospice proposal allows for a diverse array of environmental and social benefits, including multiuse green spaces for Hospice clients and families, an outdoor classroom, and public greenway access.
"The plan for the riparian area habitat creation will bring the community together, including the students and residents in the area, with a natural environment to enjoy and learn. It will turn a currently hazardous space into a safer, natural habitat for wildlife and people to enjoy," says Harter.
"Victoria Hospice and Bowker Creek are both essential to the health and well-being of our community and we are committed to working with all stakeholders to protect these treasures for years to come."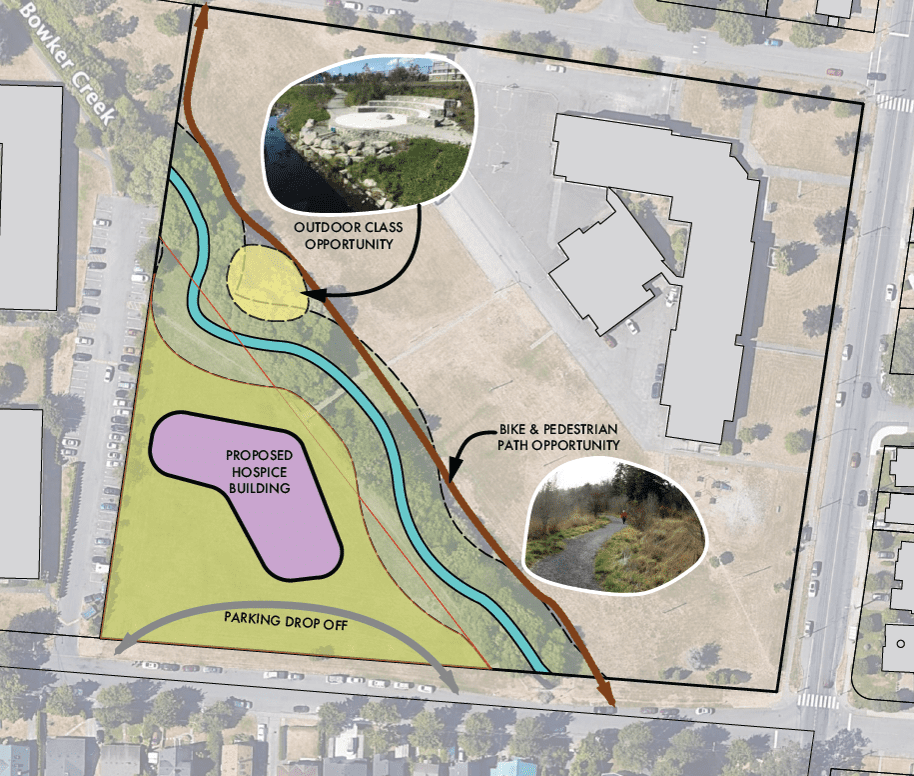 Victoria Hospice creek restoration design intent proposes to:
• meander and widen the creek
• engineer sloped banks to slow erosion, improve safety, and alleviate flooding
• improve and increase the riparian area habitat with a 20 m wide Stream Protection Enhancement Area (SPEA)
• enhance the riparian area by removing invasive species and planting native species at a high density, with a combination of shrubs, forbs and trees
• design a new natural, diversified greenway