Generous, ethical, funny, loyal, and a terrible cook. These are just a few of the words that describe Jean Gordon, who spent almost three months at Hospice in 2017.
"I always felt like Jean and I shared a soul," her sister-in-law and best friend, Lisa Gordon says. Lisa cared for Jean at home for more than a year with the help of care aides. When Jean was admitted to Hospice, Lisa says Jean felt safer and rallied. "Hospice gave us three wonderful months with Jean. I attribute that to the excellent care she received."
In addition to the care team, the beautiful hospice quilts brought Jean much joy and comfort. One quilt she adored was black, bright lime green and turquoise, with dragonflies and offset panels and borders. "Every time that quilt came through the door, Jean lit up and spent hours looking at it," Lisa says.
A quilter with the Victoria Quilters' Guild since 1996, Lisa was unable to quilt while caring for Jean. After she died on August 24, 2017, it took several months before Lisa could return to her sewing room. By November, she began to make two quilts. "They just flowed. I didn't unpick a seam or make changes. They just came to me."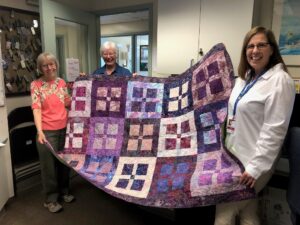 Lisa brought these quilts to Victoria Hospice a few months later, a generous contribution and a meaningful way for her to give back. Her gifts haven't stopped since. Her goal is to make enough quilts for every bed at hospice – 18 in total. She recently dropped off quilts number eight, nine and 10.
"They're made with love," she says. Indeed, her quilts are quilted by commercially fellow guild member Teresa Ranson with a long arm quilt pattern of loops and hearts. Each quilt takes about 50 hours to make and she described the process as therapeutic. She thinks of Jean as she makes them. "A quilt is from the heart."
We thank Lisa for her beautiful contributions to the fabric of Victoria Hospice. We would also like to extend our gratitude to her husband, Hugh Gordon, who contributed his guidance and expertise as a Victoria Hospice Society Board Member from 2019 to 2020.