Victoria Hospice is pleased to announce a $1M donation from the estate of Olga Yakimovich, a leader in the local construction industry and a beloved mother and grandmother.
Among the three largest gifts received in the organization's history, this donation ensures Victoria Hospice can provide compassionate end-of life care to many people when they need it most.
Olga designated the gift in her will before she died in February 2020 at the age of 95.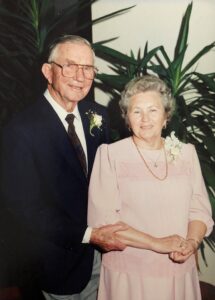 "This gift speaks to Olga's deep generosity and tremendous foresight," Kevin Harter, Victoria Hospice CEO says. "The many ways she contributed to the community over the years and her commitment to improving conditions for people at the end of life and the elderly was absolutely wonderful. We are so grateful to her and the entire Yakimovich family."
A successful entrepreneur, Olga was as respected for her business acumen as she was for her kind-hearted generosity – she always gave back to the community that supported her.
The Yakimovich family has helped shape Victoria's landscape over recent decades, constructing apartment buildings around the city that many local people call home.
"I marvel at my mother's history," says Olga's son Ernie Yakimovich. "As a child in her native Ukraine, her two sisters died during a pandemic. Mom then immigrated with her parents to The Pas Manitoba and that's where she met and married Dad before settling in Victoria. For immigrants, they accomplished so much, bringing up a family and creating a building empire. Through hard work and without asking for any special assistance, Mother was a dominant woman pioneer in the Victoria construction scene. I look at her accomplishments with great pride that both Mom and Dad have been an inspiration to me as well as others."
When her husband George died in 1997, the bereavement support Olga received from Victoria Hospice inspired her to give back.
"Mother was able to connect with others in similar circumstance through her association with hospice. These outings were a great comfort to her and reinforce the value of hospice," Ernie says.
This is a very special legacy donation, Victoria Hospice Planned and Legacy Giving Officer Shelley Engelhardt says. "The richness of Olga's life is evident in the successful business she built, the myriad ways she gave back, and the large and loving family she left behind, including five great-great-grandchildren."
Victoria Hospice is so grateful to be the beneficiary of her generous legacy gift on behalf of people facing end-of-life. It will carry her compassion forward by providing comfort and care to hospice patients and families in the very community her family helped build.
Our deep appreciation goes to Olga and the Yakimovich family for their kindness, foresight, and generosity.
Victoria Hospice celebrates every legacy gift with gratitude. To find out how you can create your own legacy of compassion in support of hospice care, please visit victoriahospice.org/leavealegacy.