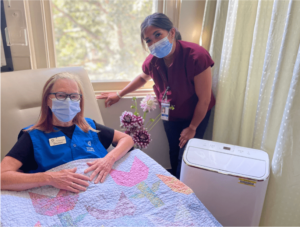 The generosity of Victoria Hospice donors supports patients in so many practical ways. Recent gifts help patients stay cool and comfortable on the Inpatient Unit and on the rooftop garden.
Beautiful new wheeled recliners provide a cozy way to relax, have a meal or a visit. Sleek new air conditioners were a welcome addition this summer to keep the heat at bay. Two motorized awnings provide protection from the elements on the rooftop garden and enhance this very special place.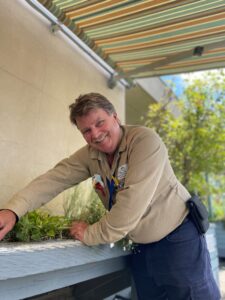 Our gratitude goes to the Susan & Wayne Mew Foundation in memory of Jack Purcell, Peninsula Co-op, the Victoria Imperial Lions Club, Susan E. Crow, Linda and Warren McGillivray, our partners at Island Health, and our generous donor community for supporting these key additions.
Gifts that provide ease and comfort to people in their dying time are so appreciated.
Thank you to everyone who contributed so thoughtfully.