Affirming our commitment to culturally safe care
This week we installed "The Light of Irene" by Rain Pierre on the Inpatient Unit. Rain is a member of the Katzie First Nation, an artist, motivational speaker, and advocate for reconciliation, the LGBTQ2S+ community and recovery.
The artwork is a symbol of belonging and safety, and by displaying it at Victoria Hospice, we affirm our commitment to providing culturally safe health care for Indigenous patients, families, and chosen families. Commissioned by the Doctors of BC to help create welcoming spaces, the artwork is available to medical facilities across the province.
Rain Pierre says:
The Truth and Reconciliation design represents that the past and future must be acknowledged while we all work to create a better tomorrow. Which is represented in the twin feathers.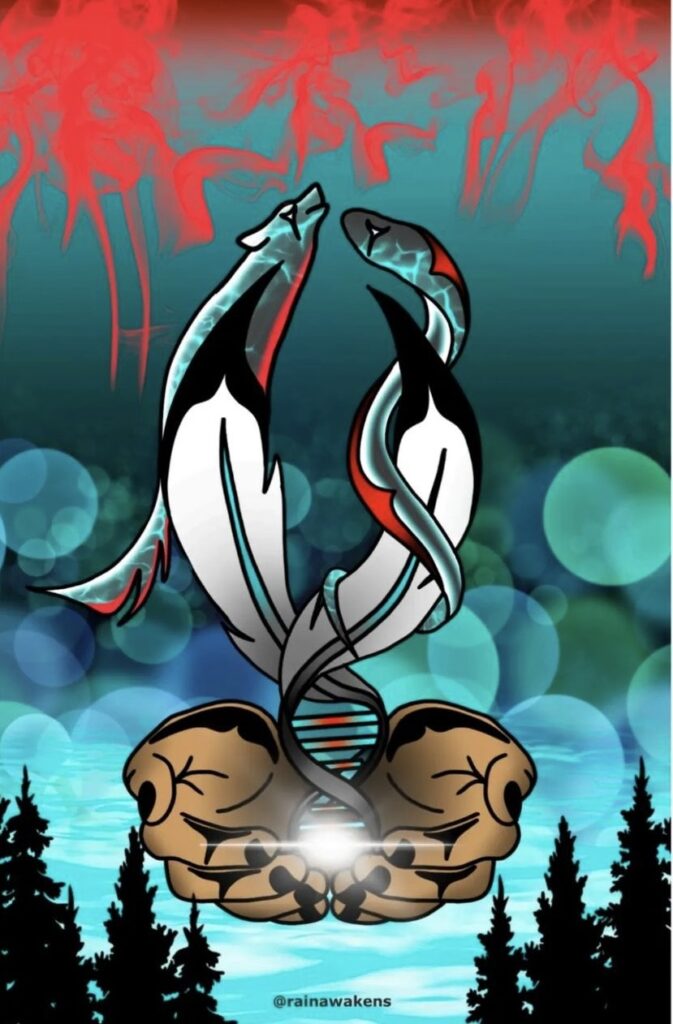 The hands are lifted up in gratitude and thanks to all physicians for providing care and compassion to the communities. The DNA represents who we are, deeper than the colour of our skin. We are human beings and should all be treated in health care as equals.
The light burst is our soul and hearts connected at the core. We must be mindful of the spirit we carry and that healthcare goes much deeper than the physical aspects of who we are. We must also be mindful of our spirits and mental health.
The wolf is an animal of power and strength – looking ahead bravely, reminding us that we never walk alone. Wolves belong to a pack, as healthcare belongs in a team.
The snake symbolizes vulnerability, and the shedding of its skin indicates longevity and rebirth. We must be mindful of new ideas and approaches to medicine to accommodate the patients we are tending to. The snake looks to the wolf for guidance and power as the spirit of the snake can be docile. It is common that Indigenous people feel vulnerable and unsafe, so they hesitate in seeking help.
The orbs in the background are a reminder and homage to our ancestors and predecessors. We must be respectful of the inheritance of knowledge that has been passed down. These symbolize honor to our teachers. It is a reminder of the spirit world, one of which we all must go one day.
We are grateful to Rain Pierre and the Doctors of BC for making this meaningful and beautiful work available.