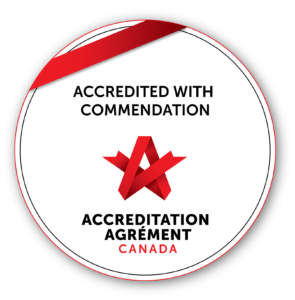 Victoria Hospice is proud to announce we have achieved accreditation with commendation from Accreditation Canada. The decision follows a thorough assessment of our services and evaluation against national standards.
The results show Victoria Hospice goes beyond the requirements of the accreditation program.
"Accreditation involves assessing processes that Victoria Hospice has in place to ensure we provide the best quality of care and services to our patients," says Board Chair Paul Pallan. "It enables us to identify transparent and accountable ways to measure and continually improve our services.
Accreditation Canada's voluntary accreditation program—developed over 55 years—has a high degree of recognition in the international health care community. Organizations that become accredited with Accreditation Canada do so as a way to create a strong and sustainable culture of quality and safety.
"I am so proud of everyone at Victoria Hospice," says CEO Kevin Harter. "Every member of our team is committed to making quality and safety a priority every day. Our accreditation award is a real testament to that fact."
The standards examined included safety culture, communication, medication use, work-life/workforce, infection control and risk assessment.
"We participated in accreditation for the first time this year because we know that quality and safety are crucial to hospice staff and patients," says Marguerite Rowe, board member and chair of the Quality & Safety Committee. "It is especially gratifying to receive this award in the year of our 40th anniversary. Improving the quality of our care is a continuous journey—a journey to which we are fully committed."
Victoria Hospice is accredited until October 2024.
Click Here to read the full report.