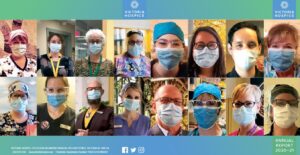 Victoria Hospice is proud to release our Annual Report for 2020-21, highlighting the many achievements of our team over the past year.
The COVID-19 pandemic has been challenging for all health care workers, worldwide. While this year has been full of challenges, our staff demonstrated remarkable perseverance to deliver compassionate, quality end-of-life care for our patients and support for their families.
"Despite the hardships of the pandemic, our accomplishments are many," says Victoria Hospice CEO Kevin Harter. "Our team rose to the challenges of this unprecedented year. But they could not have done it without you. Your compassion and generosity lift us up. Your support sustains us as we fulfil our mission and strive for continued expansion to meet the growing needs of our patients, families, and community."
Click here to read a digital copy of the 2020-21 Annual Report.