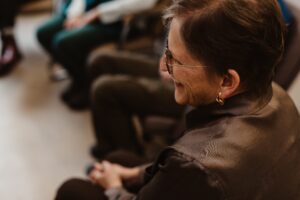 Congratulations to Victoria Hospice's Marney Thompson and Betty Anderson on the publication of seminal research they co-authored with Rosanne Beuthin (Island Health), Anne Bruce and Sarah Lundy (University of Victoria).
Their recently-published article Experiences of grief-bereavement after a medically assisted death in Canada: Bringing death to life addresses the fact that although medical assistance in dying (MAiD) legislation was passed in Canada in 2016, the bereavement experience of family and friends is not well understood.
Their research concludes how critical the time leading up to the assisted death is; a time that ignites grief early. This pre-death period was the most meaningful and impactful, bringing death to life in ways that brought grief forward, generated many practical tasks and activities for family members, and provided an opportunity to create formal and informal ceremonies that helped to make meaning and mark the significance of this time, and most importantly the value of the dying person's life.
Click Here to read the full article.
Find this study and more research conducted by Victoria Hospice
by visiting our Research Project page.