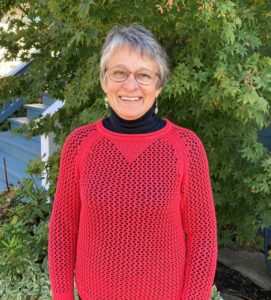 Although our volunteers' presence in our Inpatient Unit has been halted by provincial health orders, a few volunteers currently support our administrative teams from home. Janet Zaharia is one of them. She's been a hospice volunteer for six years and does the joyful work of extending thanks to donors on behalf of Victoria Hospice. Meet Janet!
What areas or programs are you involved in?
Initially I volunteered for fundraising events, such as Hike for Hospice. When these event formats changed due to COVID related restrictions, I was happy to provide administrative support for the Fund Development Team.
What motivated you to become a Victoria Hospice volunteer?
Through my pre-retirement work at the Ministry of Health in provincial policy in palliative care I became aware of the extensive services provided by Victoria Hospice and other hospice organizations in the province to support end-of-life care. I wanted to make a personal contribution.
What's the best part of being a volunteer?
The best part is knowing that the small role I play in volunteering helps Victoria Hospice in achieving its' fundraising goals so that it can continue providing the wide range of quality palliative care to our community.
Are there any standout moments you would like to share?
At many of the events, individuals who have had a loved one supported by Victoria Hospice have expressed heartfelt gratitude for the compassionate care received. I have sensed that their experience has had a profound impact on them and it has increased their awareness of the value and importance of quality end-of-life care.
How has your volunteer experience impacted your life?
My experience has motivated me to have end-of-life care discussions with my immediate family members and to develop an advanced care plan.
Do you have any lessons learned that you would like to share?
Even if we consider our contribution small, the impact we have on others may be huge.
What's it like to work alongside palliative care professionals at Victoria Hospice?
Although my volunteer activities don't have me working alongside palliative care professionals, through my previous work experience I was impressed by the depth of their compassion and dedication to quality palliative care.
What do you want people to know about Victoria Hospice?
I think it's important for people to know about the range of services that are offered through Victoria Hospice, from direct palliative care to advance care planning. As well, the role volunteers play is invaluable in providing comfort and support through hospice and in the community.
Please feel free to add any additional information you would like to share.
I think we are so fortunate to have Victoria Hospice in our community as we will all at some point face our own death. It is comforting to know that we are in such excellent hands. For that, I am most grateful.