Artist Irm Houle brings her silk paintings to the Esquimalt Township Community Arts Council's Gallery Splash event in support of Victoria Hospice May 31-July 5, 2022.  
Previously a watercolour artist, Irm Houle has been creating silk paintings for nearly 40 years.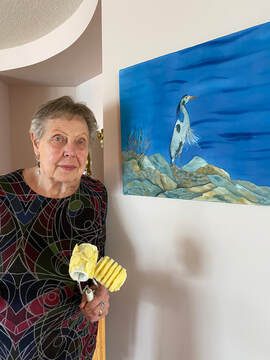 "I look at the beauty of nature that surrounds us on our lovely island," she says "I am inspired by the hummingbird that comes to my feeder, by the flowers and trees and the ocean that I observe on my morning walks, by the smiles on people's faces when we greet each other. We have so much to be thankful for! Life is good and beautiful! Let's enjoy each moment!"
The gallery is open Monday to Saturday 9 am to 4:30 pm. You can meet the artist on Saturday, July 2 from 2 to 4 pm.
100% of sale proceeds will be donated by the artist to Victoria Hospice.