Dedicated Victoria Hospice supporters have been recognized for their generosity with a place on the National Philanthropy Day Giving Hearts Honour Roll.
Tarj Mann (pictured here with his wife Jeeti Mann), and Carmen Lassooij of Charelli's Delicatessen & Cheese Shop are generous leaders who regularly galvanize support for charities and projects that help people and build community in the Capital Region.
Tarj Mann is an educator, a philanthropist, and an engaged community member who always seeks to make a positive difference. Tarj has long supported causes that make a big impact in peoples' lives, and in the compassionate care people need at the end of life. A long-time supporter of Victoria Hospice, Tarj has also bolstered financial support for the organization through the Mountain Golf Tournament since 2011.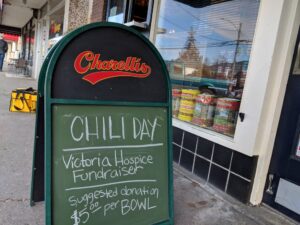 The giving heart behind Charelli's Delicatessen & Cheese Shop, Carmen Lassooij is a dedicated fundraiser and supporter of causes close to the hearts of many. Along with her team, Carmen's compassion has been demonstrated by supporting families in need and organizations from Victoria Hospice and the ALS Society of BC and Yukon to Dance Victoria and the Vancouver Island Kidney Patients Association – to name a few. Carmen and Charelli's demonstrate the true meaning of community.
Please join us in congratulating Tarj and Carmen! The National Philanthropy Day Giving Hearts Honour Roll is an initiative of the Vancouver Island Chapter of the Association of Fundraising Professionals.