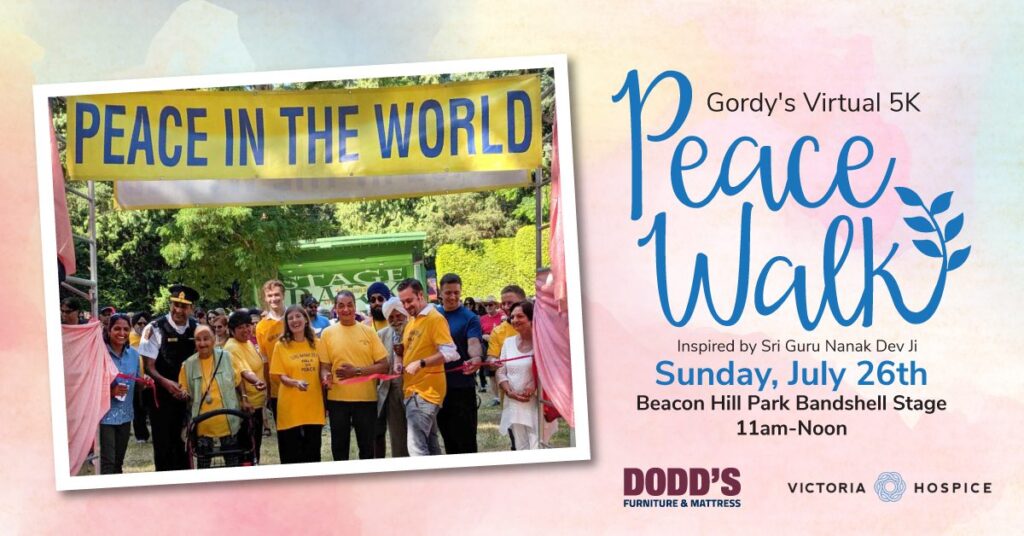 In light of the on-going health risks associated with Covid-19, this year's gathering at Beacon Hill Park in support of Victoria Hospice has been postponed to 2021.
You can still show your support by joining the virtual Victoria Hospice Facebook Event, or by donating in person at Dodd's Furniture and Mattress, 715 Finlayson Street.
"Originally planned for July 26th, people have been asking about it" says founder Gordy Dodd. "It means they're thinking about the walk and its' message for a while now."
Inspired by Sikhism founder Siri Guru Nanak Dev Ji, he walked thousands of kilometers through Asia – from Burma to Iraq and North India to South India. Throughout his travels he preached a wonderful message of peace and love to everyone regardless of caste, religion or gender.
"He taught us the importance of having love and respect for others with different beliefs, so that our own children could be raised in this same peaceful way for generations."
Over the past decade, Gordy Dodd's Annual Walk for Peace has raised over $50,000 for Victoria Hospice. Providing end-of-life care and comfort for patients and families in our community, the Hospice relies heavily on community events such as this to raise approximately half of their operating costs.
"In a time when we are not able to gather for larger community events, it brings comfort and care to our patients and families when community support, even virtually, takes place," says Anita Rozell, Development Officer, Community Events at Victoria Hospice.
"The Gordy Dodd Walk for Peace is one such event, that supports the community and helps raise much-needed funds for end-of-life care."
Click Here for more details on the event.