Chelsea and Briana share their Hospice story
We were just kids when our family experienced Hospice for the first time.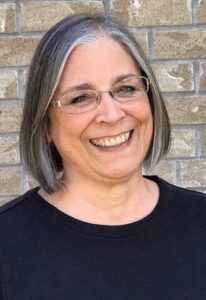 Our Dad was diagnosed with a glioblastoma brain tumour in 1997. Everything happened so fast and we are eternally grateful that Victoria Hospice was there for us. Even as children, we felt Hospice was a good place.
Although our parents had separated when we were fourteen, Mum (Merry) was our guide during our father's end of life. The care and compassion Dad experienced at Hospice inspired Mum to become a volunteer not long after he died. For many years, Mum helped countless patients on their own end-of-life journeys at Victoria Hospice, including that of our own 93-year-old Gran.
Fast forward to 2019 … we have children of our own, Mum is 67 and a loving Nana to four beautiful grandchildren. She loved poetry and literature, and she had a passion for travel. She was incredibly intellectual, and that's why we noticed the subtle memory loss and a certain dimming of her light.
Just like our father, Mum was diagnosed with a glioblastoma brain tumour.
Mum had one round of chemo, and about six weeks at home where she was "almost normal". But her health declined quickly and she got a bed at Victoria Hospice in the nick of time.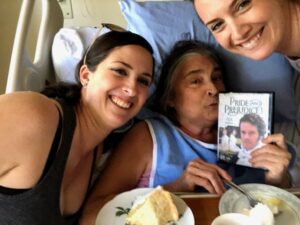 The Hospice care team went above and beyond to make sure we were able to do all the things we wanted to do with Mum. We would gather together as a family to feast on a curry dinner. In fact, every night was a food fest! Steroids increased her appetite, and after years of following Weight Watchers, she was ready to really enjoy food. She'd have her Hospice dinner and then we'd bring in burgers for a second course!
We used to watch old movies and musicals with Mum when we were kids, so that's what we did at Hospice. One day Mum said, "bring me lemon meringue pie and Colin Firth!" So we put a "do not disturb" sign on her door and snuggled in bed to eat pie and watched a Pride and Prejudice DVD from the Hospice library. We also appreciated the welcoming environment Hospice staff created for our children. They weren't afraid to visit Nana. They'd do art projects on the floor of her room and play with the toys from the cabinet in the family lounge. And let's not forget the tea parties! Our daily teas—complete with a full china set and individually wrapped cookies—became a meaningful and cherished ritual for all of us.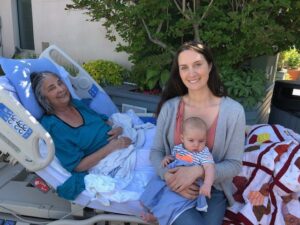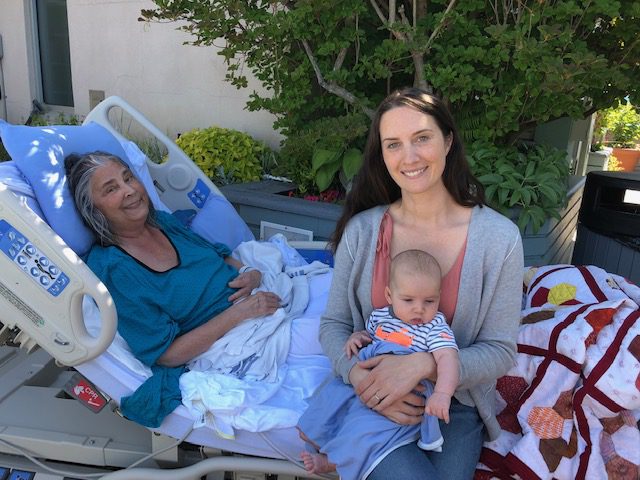 Mum spoke openly about how she wanted to spend her final weeks at Hospice. We had seen the way she had cared for others, and
we knew how she wanted to be cared for. We are so thankful she created that climate and culture for us.
We are also grateful to the Hospice team for creating a sacred space for us. It was the simple way the nurses and volunteers announced their names when they came in the room. It was respect they showed by talking to our loved ones, even if they appeared to be unconscious. And it was the compassion they displayed when they explained what was happening and why. They care for the patient
as a whole person.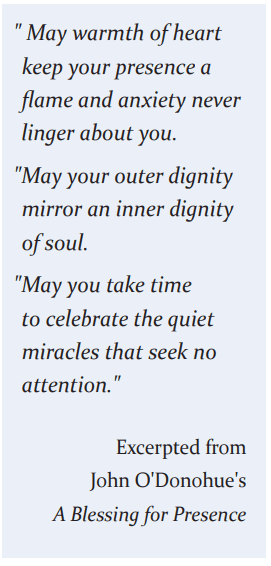 At Hospice you're surrounded by people who know how to talk about the end of life in a very normalized and caring way. It's such a relief for family and for patients to feel, "Okay, I can talk about this. I can focus on what it means to let go now."
Mum continues to guide us through our grief. After Mum died, we came across one of her many journals. It reads, "When I die, I hope someone will read—for Chelsea and Briana particularly but also for whoever else might be at my ceremony—the John O'Donohue Blessing. And I hope they will be comforted by the thought that my spirit, in life and afterward, seeks to comfort them with these words of wisdom."
Even in her absence, Mum continues to guide and inspire us, leading us to healing.
The care and support provided by Victoria Hospice, and made possible by donors like you, is truly incredible. We don't know what the end-of-life experience would be like if Hospice wasn't there, but we know we would have been lost. This is why Victoria Hospice matters and what Hospice does for the community matters. Please consider giving today, so that all patients and their families, like ours, can receive the same wonderful care.
With sincere appreciation and thanks,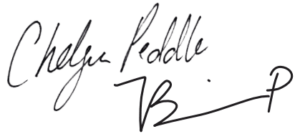 Chelsea and Briana Peddle
---