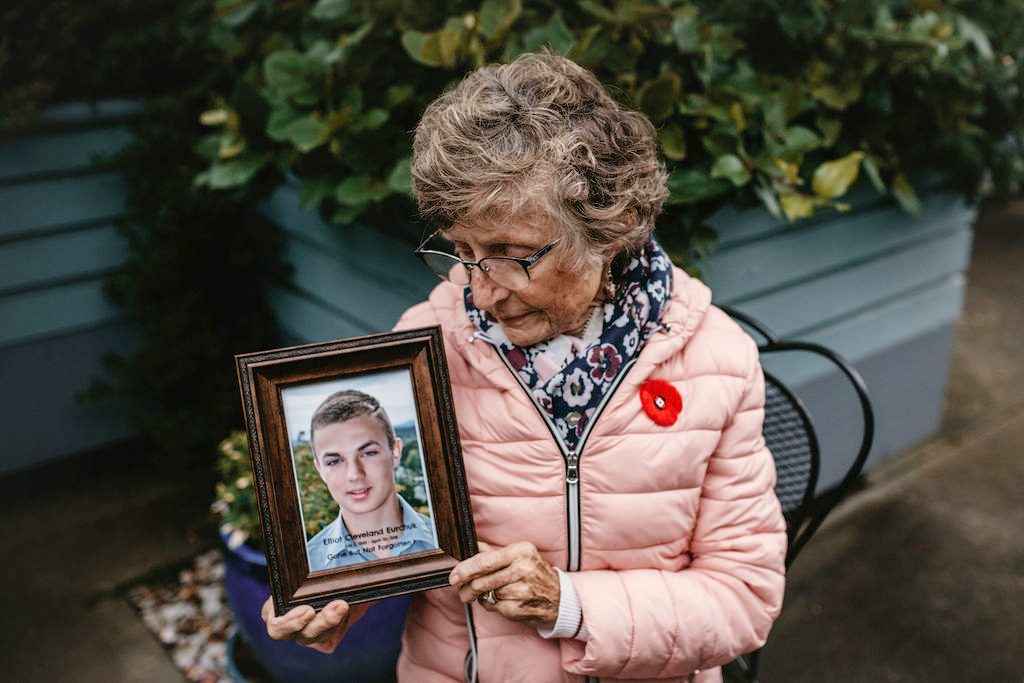 Celebrating Elliot Cleveland (Staples) Eurchuk
---
During my lifetime there have been many deaths of family members. Each one touched my heart, life and mind, then and forever.
Today I am remembering with lasting love, my 16-year-old grandson, Elliot Cleveland (Staples) Eurchuk. I was privileged to be present at Elliot's birth, who was the first of three sons born to our daughter Rachel and her husband Brock. What a beautiful baby! Living in Victoria allowed for us to be together a great deal of the time. I have to say that busy little Elliot kept me on my toes. He was a remarkable boy. He was an avid reader from age four. His favorite books, pre-school, were the Harry Potter series, which he could almost recite. He absorbed much of the information from all of the Ripley's annual "Believe It or Not" books.
We were so fortunate to have 16 years of summer love and fun at our Gabriola Island cottage. There, so many memories of Elliot with his aunts, uncles, cousins and their many friends enriched my life beyond words. I can recall many wonderful days on our beach. One busy, fun day, Elliot (three years old) wanted a fort for a number of huge purple jelly fish that washed up on our beach. He designed it and we worked hard all day to build the fort which of course washed out to sea as the tide came in. He had a wonderful imagination. Elliot, along with all his cousins, was a pupil at my "Grannie's Manner's Camp" which was held on the lawn outside the cottage. Oddly enough, they have giggled and talked of this for many years!
Once in school, Elliot excelled. He was gifted with an amazing and quick mind. I soon learned not to question any statements of facts he might mention. His wit was immeasurable! He could have held his own on any adult's debating team. He was quite an athlete. I had wonderful exciting times watching his soccer games. My first exposure to rugby was when I watched El play. I then became his regular rugby fan. This was quite an education and it was hard to watch the roughness of the game and his subsequent injuries.
My precious memories of my grandson, the love of his brothers, Oliver and Isaac, all my families and my faith have given me the strength to get through each day since the shock and sorrow of his death at age 16. I am slowly learning to smile again when daily I remember a handsome, brilliant young man, my grandson Elliot.
Thank you, Victoria Hospice, for the opportunity to celebrate this life at Hospice's Celebrate a Life.
From Elliot's grandmother, Carol-Ann Staples