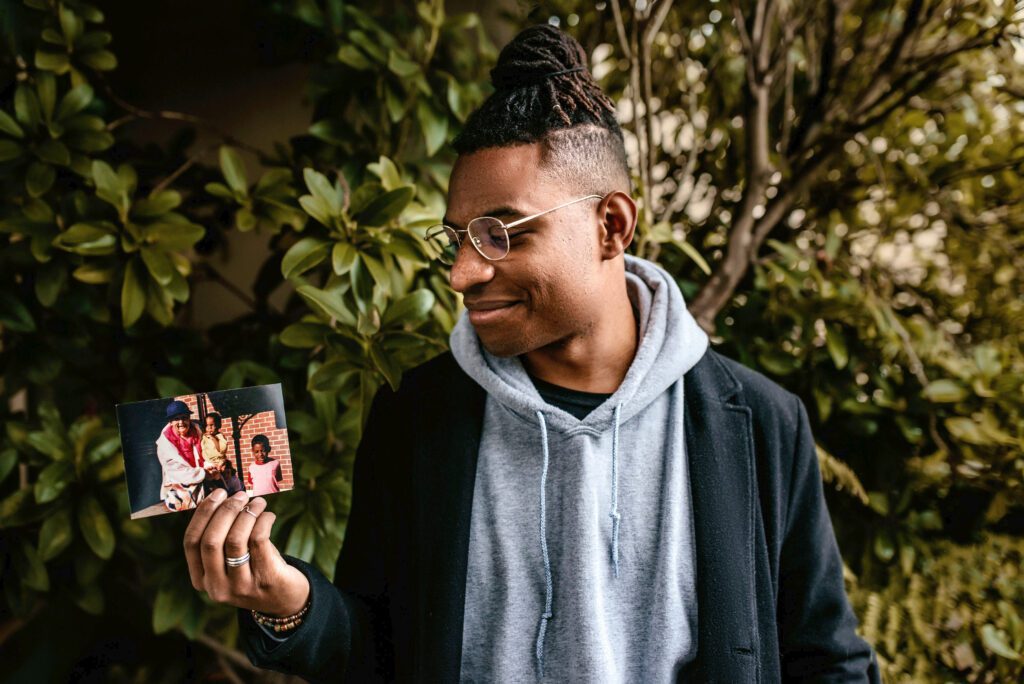 Celebrating Rose Johnson
---
During this pandemic, I've been working steady. It can be quite challenging and emotionally engaging for me, but I find myself thinking about my Grandma Rose. I keep this picture on my fridge. She's holding my brother Duncan, and I'm standing next to them. We had taken her down to the Victoria train station (when that was still a thing).
She had not travelled much outside of Courtenay, but loved train travel. I don't remember much about that day as an adult, but I have kept this picture because it brings me joy as I pass by it, and it reminds me of her gentle teachings about life. Phrases she used like, "You'll make the grade yet" and, "Live and let live." According to my aunty, she was full of these phrases, her reminders to keep pushing, and stay steady.
My Aunty Ruby told me stories about Grandma Rose. She was the reason I journal the way I do; when you write something down that is stressful or challenging, you may throw the page out afterwards. One time Rose had to replace the toilet in her house. She had it removed, but it wasn't replaced right away, so she was without a toilet for a period of time. My aunt asked her if she needed anything because she noticed the toilet was gone, she just shrugged and said her signature "oh well", because she knew it would be replaced, if she just remained patient.
I remember clearly, when we travelled up island to visit her from Victoria, she would be sat on her patio in the sunshine in her little Courtenay home. With a word puzzle, a pile of tobacco, just rolling her own cigarettes, and listening to the radio. When we walked in, there was always a huge smile on her face. Her laughter was mischievous, her eyes were warm, and her hugs were reassuring.
Her calm presence eased any anxiety, it taught me that the world around us, although unpredictable, was manageable. When she transitioned from this earth, she left with the same grace she arrived to it with.
We love you Grandma Rose.
From Rose's grandson, Parker Johnson